Red Chimichurri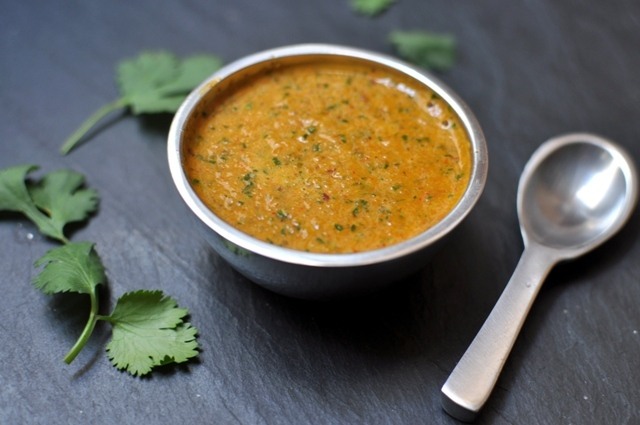 In nearly every cookbook I own, the sauces, condiments and other "extras" are stashed away in the back like an afterthought.  I'm guilty of burying them on this website, too. Recipes for spicy remoulade and peanut sauce come to mind – both incredibly delicious but reliant on the food with which they're paired to bring them to life (or vice versa).  The role of a dipping sauce or condiment is, after all, to improve and accent food. Although I was tempted to showcase this red chimichurri alongside plump, golden empanadas, which is how I first experienced it, I decided instead to focus solely on the chimichurri today.
My friend and neighbor, Scott, works for a publishing company and is kind enough to let me borrow cookbooks from time to time. One of his recent loans was Gran Cocina Latina: The Food of Latin America. It's a treasure and I'm not alone in that sentiment; it was recently named Cookbook of the Year by the James Beard Foundation. Written by Maricel E. Presilla, who holds a Ph.D. in medieval Spanish history and owns two restaurants, Gran Cocina Latina is a culinary masterpiece boasting over 500 recipes that cover an impressive scope – geographically, historically and culturally. It's a fascinating read, and I want to cook everything in it.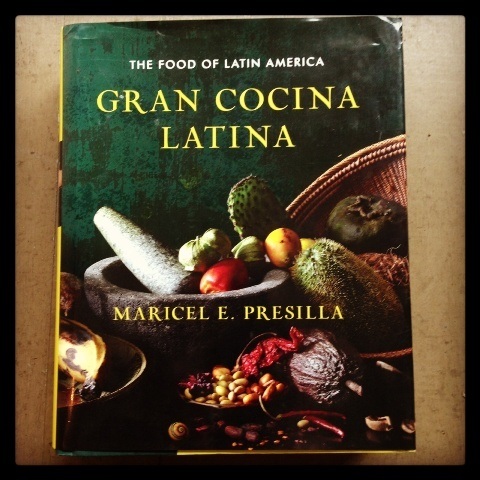 As I mentioned several weeks ago, Walker asked me to make Presilla's recipe for Argentinean beef empanadas. I made the recipe exactly as instructed, which involved frying cubes of pork belly to render lard for the dough. It was an educational albeit messy process but the end result was the lard and some crispy pork cracklings that we snacked on throughout the day. Although the empanada filling was rich and vibrant, the dough was bland, a considerable disappointment given the labor involved. Paired with the smoky, tangy chimichurri, however, the empanadas were unbelievably good. The chimichurri saved the day.
Later that evening, I dropped off leftover empanadas and chimichurri to Scott and his family as a thank you for letting me borrow the cookbook. He texted me a few minutes later: "Oh my. What is in that sauce?" I laughed. And sighed. All the time that went into the empanadas – the chopping, the simmering, the rendering, the cooking, the rolling, the filling, the baking – and the chimichurri, all five minutes of labor required to make it, entirely upstaged the empanadas. Or, rather, made them significantly better.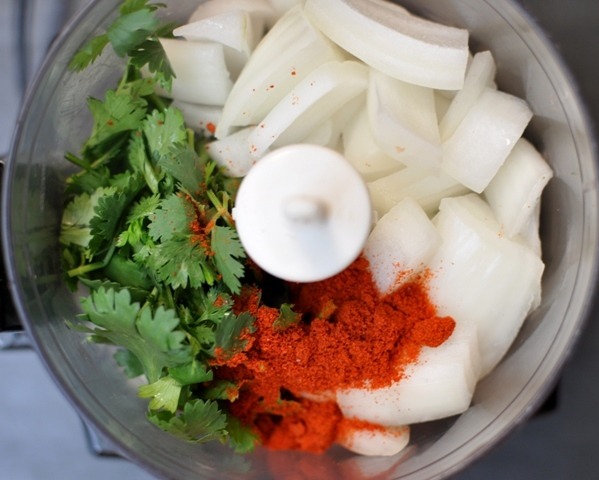 Empanadas are an obvious pairing with the chimichurri. But it would also liven up tacos, and a heavy drizzle over thinly-sliced, grilled flank steak would be sublime.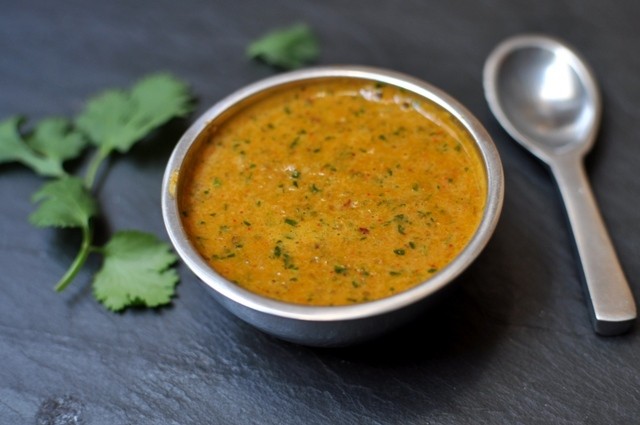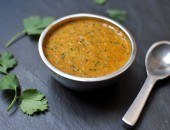 Red Chimichurri
I made one change to the original recipe: I decreased the amount of garlic from 12 cloves to 6, and this is saying something because I am not afraid of garlic. Six cloves was just right for us.
Presilla serves the chimichurri with empanadas, but a drizzle or dollop on top of grilled meat is an easy way to bump up the flavor of everyday chicken or steak.
This hopefully goes without saying, but don't be tempted to substitute the smoked paprika with regular paprika. Smoked paprika is a must here.
Ingredients:
6 cloves garlic (germ removed*), halved and crushed with the flat blade of a large knife
1 small onion, coarsely chopped
1/2 cup packed fresh cilantro leaves
1 tablespoon dried oregano
1 tablespoon smoked paprika
1 tablespoon crushed red pepper
1/2 cup red wine vinegar
1/2 cup olive oil
Salt to taste
*To remove the germ, which can impart bitterness, cut the garlic clove in half and remove the sprout in the middle of each half. The germ may be white or green in color. If it's green, it's more likely to be bitter.
Directions:
In a food processor, process the garlic, onion, cilantro, oregano, paprika, red pepper and vinegar until well combined. I like mine very smooth. Transfer the mixture to a bowl and slowly whisk in the olive oil. Add salt to taste.
The chimichurri can be stored in an airtight container in the refrigerator for 2-3 weeks.
5 Responses to "Red Chimichurri"
Leave a Comment
You must be logged in to post a comment.