Carnitas + Mexican Crema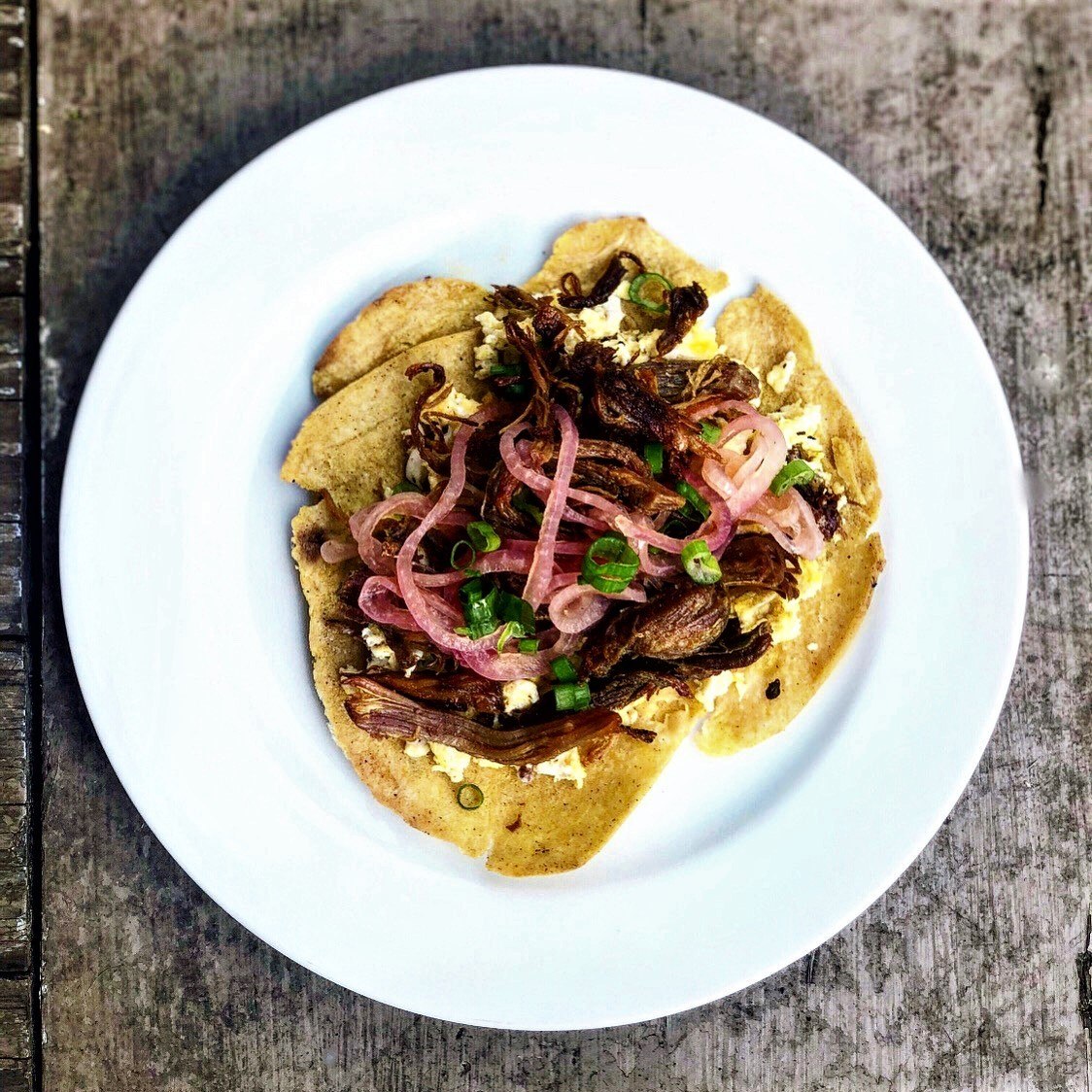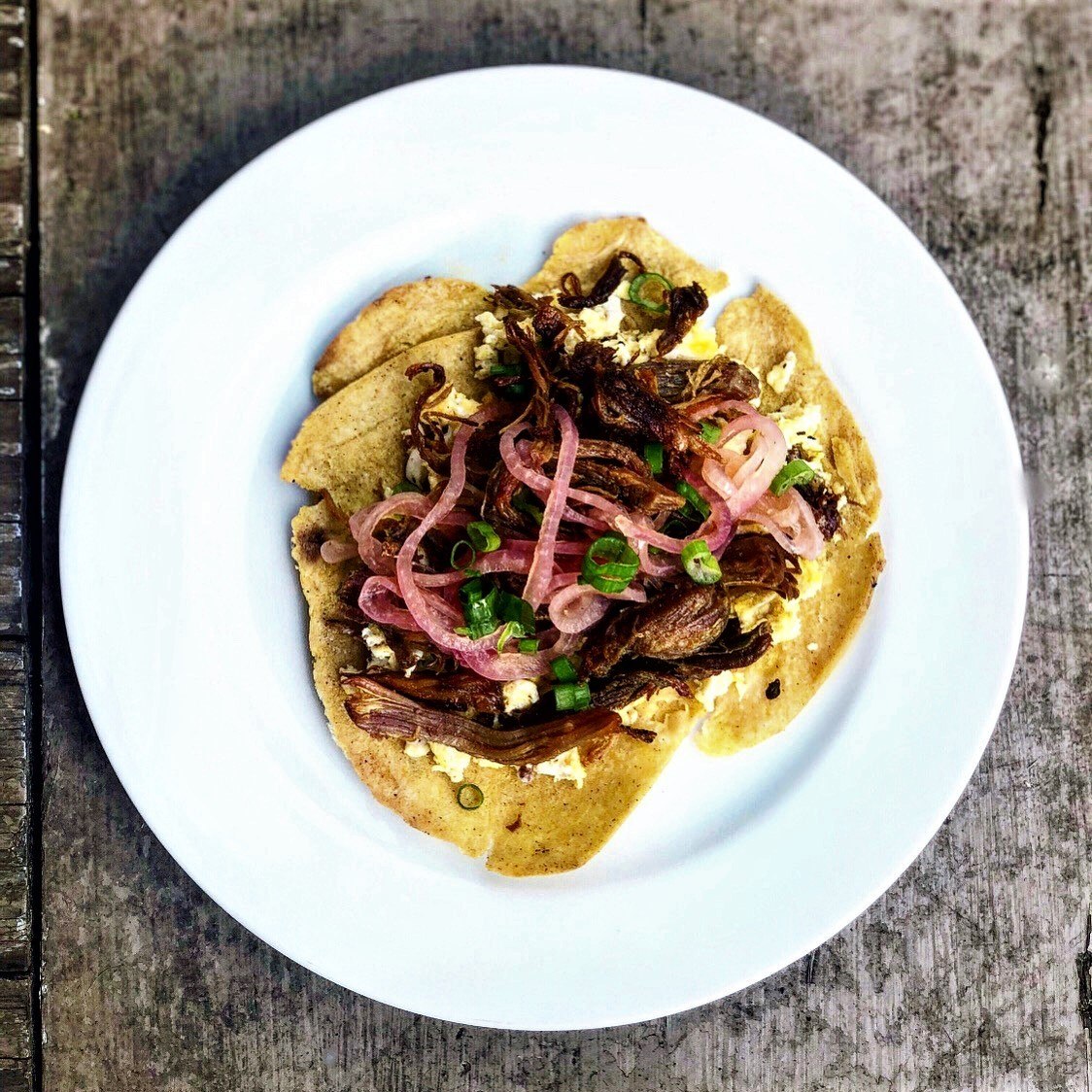 The first few months of quarantine, I prepared all of our meals at home – zero takeout or curbside pick-up. It was, at first, a nice distraction from the realities of our strange new world. With bakeries closed, I joined the sourdough bread-making bandwagon. Kitchen fatigue eventually gave way and packaged ramen entered the picture for many lunch meals. There was also a day over the summer when, upon desperate pleas from my kids, I googled, "Is Taco Bell drive-through safe?"
I started thinking more strategically about how my cooking efforts could be further stretched into multiple meals – more bang for my buck and, more importantly, my time. Enter: carnitas, a delicious Mexican preparation of pork, simmered slowly until tender and caramelized.
I've been making this version of carnitas, which literally translates to "little meats," for years. It's one of many brilliant recipes from David Lebovitz. We like carnitas on corn tortillas topped with crumbled cotija cheese, pickled red onion, cilantro and a dollop of Mexican crema*. (The adults also prefer some heat in the form of fresh or pickled jalapenos and green or red hot sauce.)
This recipe allows you the freedom to choose the final texture of the carnitas: juicy and tender or crispy and crackly or a mix of both. The braising liquid offers a complex flavor profile thanks to multiple spices, and the shallots and garlic also play a role, as they cook down until nearly invisible, melting into the pork.
We are a family of five and this makes enough that we always have leftovers; carnitas find their way into other offerings throughout the week: breakfast tacos, pasta dishes and sometimes on their own as a snack, right out of the fridge.
* Below you will also find a recipe for crema, which I started making on my own because it can be difficult to locate in grocery stores. The crema gets a nice citrus boost from lime zest and lime juice; now that I've gotten the recipe where I want it, I never buy it.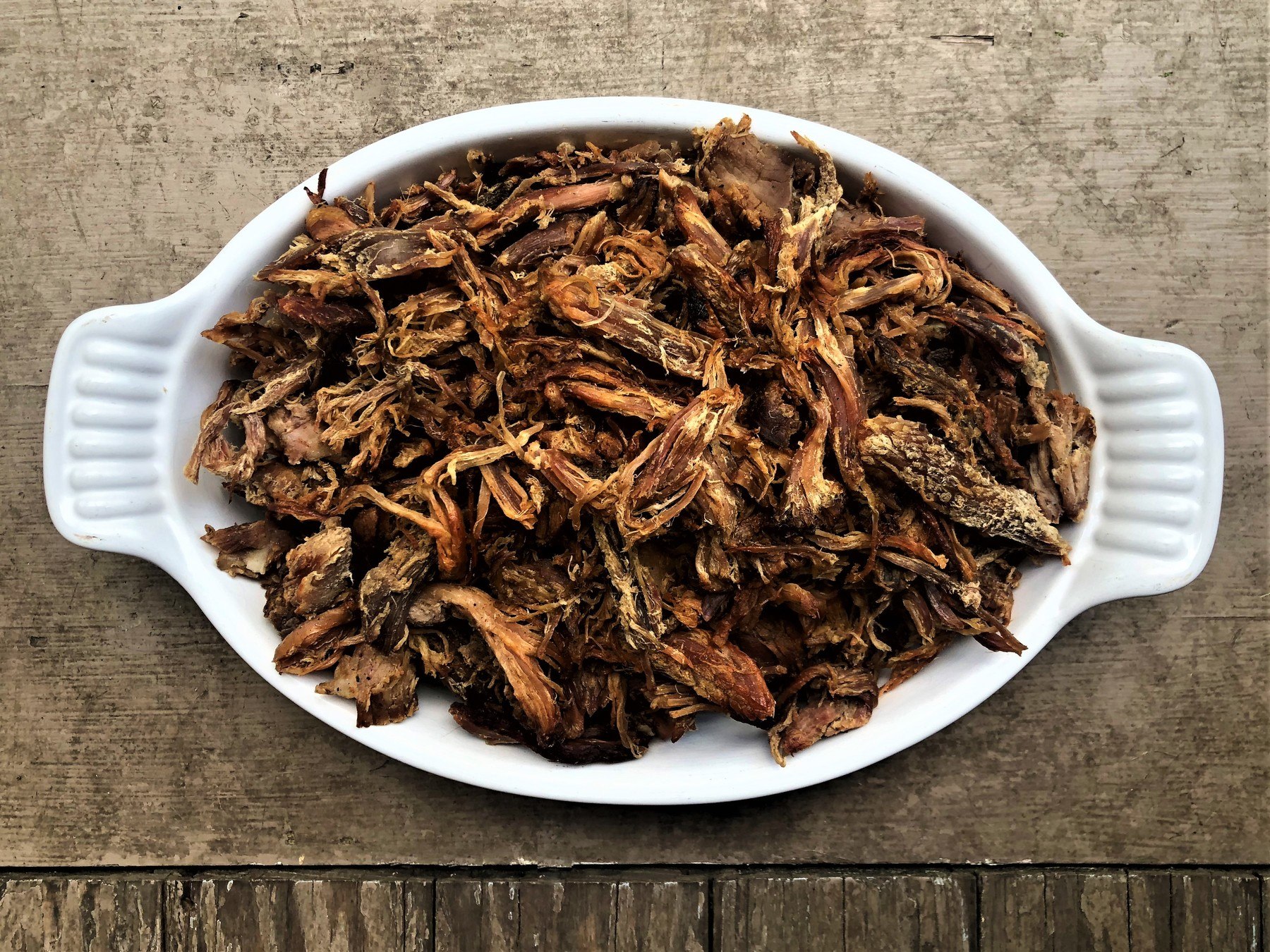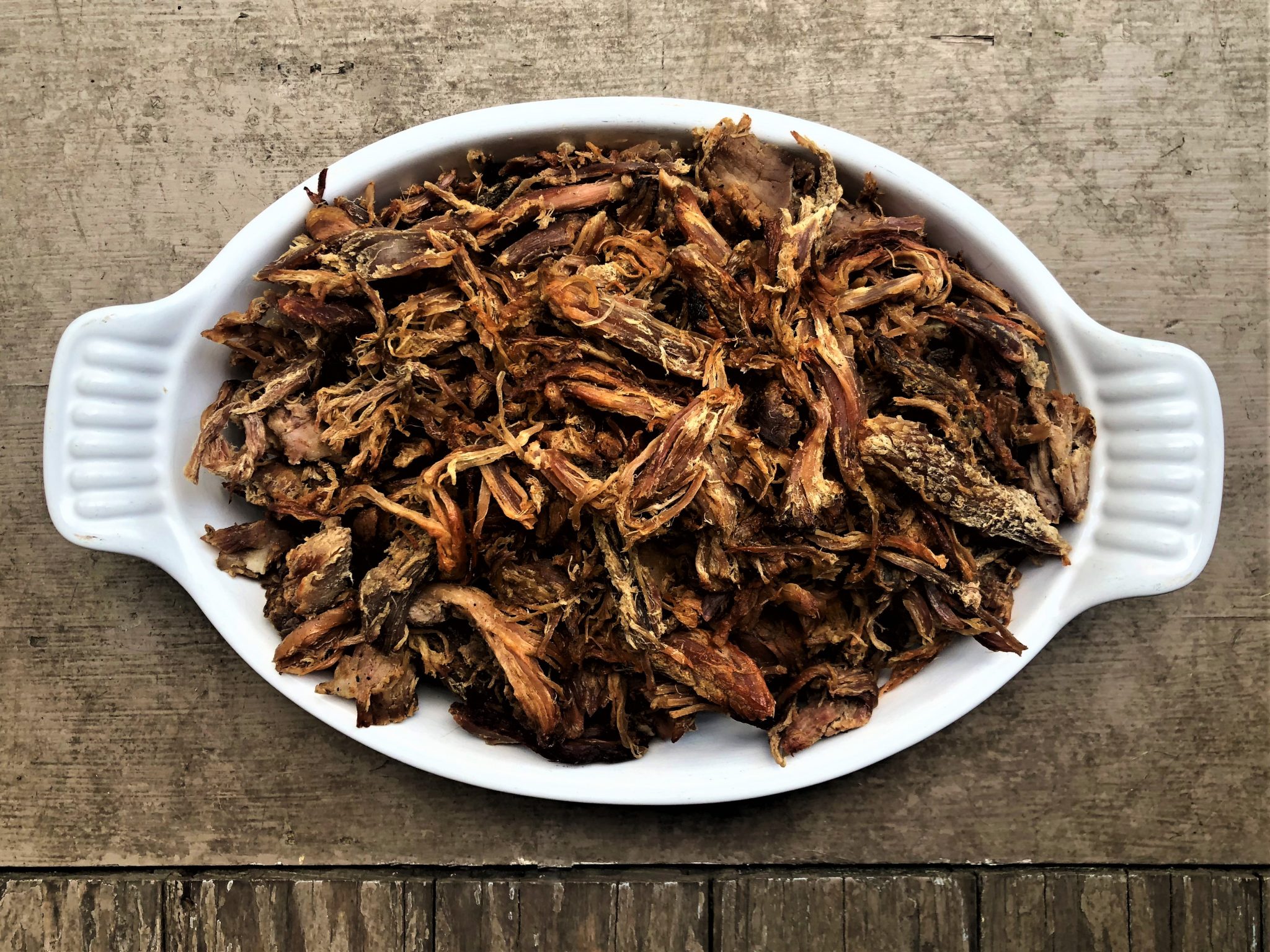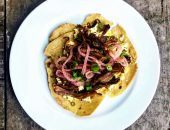 Carnitas + Mexican Crema
Feel free to play around with the seasonings; it's a forgiving recipe. If you don't have ancho chili powder or smoked paprika, you can bump up the amount of chili powder or add sweet paprika. If you don't have shallots, substitute with a yellow onion (but slice very thinly so it has a chance to meld with the pork). However, don't skip the cinnamon stick, if possible – it's a key ingredient! Regarding the Mexican crema, garlic is not a traditional element, but I'm a fan of the extra flavor it brings.
Ingredients:
CARNITAS
4 to 5 pounds boneless pork shoulder, cut into 5-inch pieces and trimmed of excess fat
Salt and freshly ground black pepper
Olive oil or vegetable oil
1 cinnamon stick
1 teaspoon chili powder
1 teaspoon ancho chili powder or smoked paprika
½ teaspoon cumin
3 shallots, thinly sliced
4 garlic cloves, peeled and thinly sliced
2 bay leaves
MEXICAN CREMA
¾ cup sour cream
½ cup heavy cream (or more to taste)
Zest of half a lime
Juice of half a lime
Salt to taste
Optional: ¼ teaspoon fresh garlic (a few passes on a microplane)
Directions:
CARNITAS
Preheat oven to 350 degrees F. Pat the pork shoulder pieces dry with paper towels. Season all sides evenly with salt and pepper. Heat two tablespoons of olive oil or vegetable oil on medium-high in a large roasting pan. When the oil is hot, add the pork and sear on all sides until evenly browned, approximately 10-15 minutes.
Transfer the pork to a plate or bowl and drain any excess oil from the pan (or blot away with paper towels). Add a cup of water (or vegetable or chicken stock if you have it on hand) to the pan and, using a spatula, scrape the flavorful meat bits from the bottom of the pan. Return the pork to the pan and add enough water to cover it by two-thirds. Stir in the seasonings and bay leaves and add the cinnamon stick, shallots and garlic.
Braise the pork in the oven for 3 ½ hours uncovered or until the meat easily falls apart when pierced with a fork. (The braising liquid will have somewhat reduced at this point.) Transfer the pork to a bowl and let cool enough until it can be easily shredded with a fork and knife. At this point you have two options: 1) return the shredded pork to the roasting pan with the remaining braising liquid or 2) spread the pork in a baking pan with a decent lip (or two, depending on the size of your baking pan) and pour the braising liquid on top (distribute the liquid evenly if using two pans). I find that to achieve crispier carnitas, the baking pan method works more quickly. If you're going for a softer, juicier version, use the roasting pan.
Increase the oven to 400 degrees F. Return the roasting pan or baking pans to the oven and cook, stirring/tossing the meat every 10-15 minutes, until the pork is cooked to your liking and the braising liquid has greatly reduced. This can take 30-45 minutes (sometimes longer) depending on the desired texture of your carnitas.
MEXICAN CREMA
Whisk the sour cream, heavy cream, lime zest and lime juice together. Salt to taste. At this point, if you want a thinner crema, add another tablespoon or two of heavy cream. If using garlic, whisk in until well combined. Store in the refrigerator.
Leave a Comment
You must be logged in to post a comment.