Crawfish Beignets With Spicy Remoulade
File these crawfish beignets under not part of the diet. I feel semi-guilty for writing about them in January when everyone's trying to be good, myself included, but I think you'll forgive me for weakening your resolve when you bite into one of these crispy, Cajun morsels stuffed with crawfish, scallions and red pepper. 

We rarely prepare fried food at home or order it when dining out, so you won't see many recipes that require frying on this blog. These savory beignets are an exception. I first spotted them in Southwest Airlines' Spirit Magazine on a trip with my dad to meet my twin nieces. During takeoff, we were drooling over the beignets when our plane began shaking rather violently, violently enough for my dad to lean over and say, "You know, this is the most dangerous part of flying. If we get through this, we should be ok."
I felt MUCH better after that. A few other things I learned from my dad on this trip:
If you discuss twins running in the family, he will share (for what I swear is the first time ever) that he has twin cousins named Joyce and Royce.
If you attempt to explain why artificial sweetener is unhealthy, expect him to interrupt you mid-sentence with, "YOU'RE WRONG!"
If you hang out in the food court with him during a long layover, you might lose track of time and have to sprint to catch your connecting flight. Sprint, not run. You might also end up being the last passengers to board.
Thank goodness we made our flight. We had the best time visiting the newest members of our family, we did.
Dad and I managed to see eye to eye on most matters, except where we should park at the hospital, why few radio stations play John Denver anymore, and whether a dinner host should apologize for serving a subpar meal – the latter of which is a discussion for another time.  One thing we did agree on was that I should make these savory beignets ASAP when I returned to Birmingham.
In the end, the magazine recipe served only as inspiration. I swapped crawfish for crab and used an entirely different recipe, which I tweaked to add more Cajun flair. The beignets were served, and consumed quickly, at a neighborhood gathering to rave reviews.
I cannot end this post without championing rémoulade as the perfect sauce with which to pair these beignets because, seriously, the rémoulade deserves its own show. I ate at least two spoonfuls (for taste-testing purposes, of course) prior to serving. The creamy, tangy sauce takes the beignets, which are already fantastic, to another level.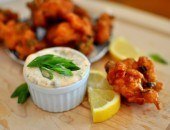 CRAWFISH BEIGNETS WITH SPICY REMOULADE
Don't be intimidated by the number of ingredients called for here, as many of the items are pantry and refrigerator staples: flour, baking powder, spices, mayonnaise, mustard, oil, vinegar, etc.
The original remoulade recipe called for anchovies. I left them out because they're not something I regularly have on hand and because I was serving the remoulade with a vegetarian version of the beignets for our vegetarian friends. For vegetarian Cajun beignets, simply eliminate the crawfish and increase the amount of red peppers and scallions by approximately 1 cup (this measurement includes both vegetables).
Ingredients:
For The Beignets:
10 ounces crawfish, coarsely chopped
1 cup unbleached all-purpose flour
1 teaspoon baking powder
2 tablespoons paprika
1 teaspoon dried oregano
1/4 teaspoon cayenne pepper (1/2 teaspoon if you want more heat)
1 cup water
1 teaspoon salt
1 teaspoon garlic, finely diced
3 scallions, finely diced
1 red pepper, finely diced
2 tablespoons olive oil
4 dashes Tobasco
Vegetable, Canola or Peanut Oil for frying
Lemon wedges for serving
For The Remoulade:
1 cup mayonnaise
2 tablespoons cornichons, finely diced
2 tablespoons finely chopped flat-leaf parsley
2 tablespoons capers, finely diced
1 tablespoon whole-grain mustard
1 tablespoon finely chopped fresh tarragon
1 tablespoon minced shallots
2 teaspoons sherry vinegar
1 teaspoon paprika
2 dashes Tabasco
Juice of half a lemon
Salt and pepper
Directions:
Make The Rémoulade: In a medium bowl, combine the mayonnaise, cornichons, parsley, capers, mustard, tarragon, shallots, vinegar, paprika, Tabasco, lemon juice and lemon zest. Stir to combine; season with salt and pepper. Cover and set aside.
Make The Beignets: Heat two tablespoons of olive oil in a skillet over medium heat; add the diced red pepper and cook until soft, approximately 8-10 minutes. Add the garlic and cook for an additional two minutes.
In a large bowl, whisk the flour, salt, baking powder, paprika, oregano and cayenne pepper. Add the water, scallions, crawfish, red pepper and garlic, stirring well to combine. Cover with a damp towel and set aside for 15 minutes.
In an electric skillet or a heavy pot, heat 2-3 inches of oil until it reaches 350 degrees F. Drop the crawfish batter by small spoonfuls into the oil and fry until golden brown, approximately 5 minutes. With a slotted spoon, transfer beignets to a paper towel-lined plate.
Serve the beignets warm with lemon wedges and rémoulade for dipping.
Leave a Comment
You must be logged in to post a comment.