Chicken Satay With Spicy Peanut Sauce
Just a few months ago, my six-year-old son, Walker, was a notoriously picky eater. In May, we implemented a new strategy to expand his diet, and family mealtime has become significantly more enjoyable for all. (No such intervention was necessary for his two-year-old sister, Esme, who eats everything from olives to goat cheese to — when it's within reach — cat food.)
I will soon blog about our adventure, including the triumphs, and yes, the defeats — along with some fantastic new recipes. In short, Walker will now try nearly any food and has transformed from a kid who turned his nose up to pizza to one who will willingly munch on a piece of arugula. He may not eat a bowlful of arugula, but he'll eat a few pieces. Progress, I say.
For the record, this new strategy involves no trickery or bribery. I've never bought into that hiding-good-food-in-bad-food approach. Using a sugar-laden cookie or brownie as an unsuspecting vehicle in which to disguise something nutritious seems counterproductive not to mention a lot of extra work for busy parents.
Prior to this new era of adventurous eating, I had a limited group of foods to work with when trying to please our family of four. Dining out was equally challenging. Our one saving grace was a local Thai restaurant called Surin West. Walker loves a few dishes on the menu, in particular the restaurant's chicken satay. I have long wanted to recreate the dish, as I love chicken satay myself, and finally tried my hand at it in June. The first batch I made was near spot-on, but I was curious, would Walker agree?
After one bite, he smiled and gave it an enthusiastic thumbs-up.
Surin West serves its chicken satay with peanut sauce, and I can't imagine a better accompaniment. I've made a half dozen peanut sauces over the years and have finally settled on a favorite. If you asked me to leave out one ingredient in the recipe, it would be hard to choose. Peanut butter, ginger, garlic, coconut milk and others, they all make an important contribution to the sauce, which is sweet and salty with a nice kick.
I'm confident this peanut sauce could become anyone's favorite, as it's adaptable to individual preferences. You could increase the coconut milk for a thinner consistency, or add more pepper flakes to dial up the heat, or increase the lime juice for more zing.
Walker doesn't care for the peanut sauce — yet — but he still tries a tiny spoonful every time I make it. You never know, I tell him, you might like it one day. In the meantime, I'm happy to enjoy his share.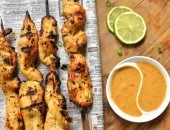 Yield: Serves two to four
CHICKEN SATAY WITH SPICY PEANUT SAUCE
If you can't find lemongrass, don't let that stop you from making this. While I think the lemongrass adds a dimension of flavor to the marinade, I've made the satay without it and it still turned out great. You can find lemongrass in most Asian grocery stores as well as natural food stores like Whole Foods.
The peanut sauce is easily adaptable to individual preferences. Adjust the coconut milk to make the sauce thicker or thinner, add more pepper flakes for a bigger kick, use more or less lime juice, etc.
Ingredients:
For the Chicken Satay:
1/4 cup fresh lemongrass, minced
2 shallots or 1 small onion, coarsely diced
3 cloves garlic, halved and crushed
½ teaspoon cayenne pepper
1 tablespoon fresh ginger, finely minced
1 teaspoon dried turmeric powder
2 tablespoons ground coriander
2 teaspoons cumin
3 tablespoons soy sauce
4 tablespoons fish sauce
5 tablespoons brown sugar
2 tablespoons vegetable oil
8 chicken breasts or 10 chicken thighs, cut into strips
Wooden skewers, soaked in water for at least 30 minutes
For the Spicy Peanut Sauce:
Generous ¾ cup natural unsweetened peanut butter (creamy or crunchy)*
1 teaspoon Asian fish sauce
1 teaspoon soy sauce
Juice from one lime
1/4 cup unsweetened coconut milk
1 – 3 tablespoons brown sugar
1 tablespoon fresh ginger, minced
2 medium cloves garlic, halved and crushed (green germ removed)
1/2 teaspoon red pepper flakes
Directions:
Make the Chicken Satay:

Place all marinade ingredients in a food processor and blend until smooth. In a bowl, combine the chicken strips with the marinade. Cover the bowl with plastic wrap and refrigerate for at least one hour or up to 24 hours.
Thread the chicken strips on the wooden skewers. Prepare a hot grill. With the lid open, grill the chicken for approximately 10 - 15 minutes, turning the chicken every 3-5 minutes until cooked. Keep a close eye on the chicken and don't leave the grill. Cooking time will vary based on the grill's heat intensity and the thickness of your chicken strips.
Serve with peanut sauce (recipe follows) and, if desired, a side of rice.
Make the Spicy Peanut Sauce:
Add all ingredients except for the brown sugar to a food processor and blend until smooth. Add one tablespoon of brown sugar. Blend. Taste. Add more sugar, if desired.
* Note: check your peanut butter label, as some natural peanut butters have added sugar; if that's the case, you may not need to add any brown sugar.
3 Responses to "Chicken Satay With Spicy Peanut Sauce"
Trackbacks/Pingbacks

Leave a Comment
You must be logged in to post a comment.