Provençal Spinach Gratin
I've had this spinach gratin post in the works for more than a month now, but no time to close the deal and hit publish. Life has been a whirlwind of work (I'm a grantwriter by day but more often by night), activity-juggling and child-wrangling. The good news: My days have recently become less hectic and more structured thanks to a not-so-insignificant lifestyle change. My two-year-old daughter – fan of sharp objects, matches, previously-chewed gum, cat food and toilet water – started a half-day program last week.  
She is having the time of her life.
Cue the hallelujah chorus.
Her bangs, by the way, are the result of a self-trim, her third in the past two months.
All that is to say, I'm back… and ready to talk spinach.
The fact that I wholeheartedly endorse this Provençal spinach gratin should not be taken lightly, as I'm not one to go gaga over spinach, especially not cooked spinach. The recipe, a 40-year-old gem, involves minimal ingredients and its author, the illustrious Richard Olney, offers this closing advice:
"No refinement could possibly improve it."
I doubt you'll find those words in most modern culinary publications. Today, it's all about giving the home cook options (i.e. vegan, paleo, gluten-free).I'm a fan of this trend in many instances, but not today. If you start gussying up this gratin with additional fillers and garnishes, it will become something else, and that something else is EVERY OTHER spinach gratin that appears when you google "spinach gratin." While I'm certain these creations are delicious with their swirls of cream, gruyere infusions and buttery breadcrumb toppings, they are not Olney's spinach gratin. His involves a simple cast of spinach, olive oil, flour, salt and pepper.
It's the kind of humble, flavorful dish he prepared for the likes of Julia Child, Alice Waters and Kermit Lynch, regular dinner guests at his Provençal home. All the more reason to experience the gratin as Olney intended.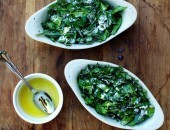 Yield: Serves four to six
PROVENÇAL SPINACH GRATIN
The outcome of this gratin varies depending on the size of your dish. If you use a large casserole dish, the top and sides will crisp up while the interior will soften and wilt. If you use smaller, individual dishes, the spinach "fries" in the olive oil and becomes crispy nearly throughout (think kale chips). I'm a lover of both.
I find that two pounds of spinach (which looks like a mountain of green before it cooks down) fits into my medium-large casserole dish plus two to three small ramekins.
Ingredients:
2 lbs. spinach, washed, drained and finely chopped into strips
Salt and pepper
3 tablespoons flour
1/3 cup olive oil
Directions:
Preheat oven to 450 degrees F. Pack the chopped spinach into an oiled casserole dish (or individual oval ramekins). Pack in the spinach as much as possible, as it will cook down considerably. Season with salt and pepper. With a sieve or sifter, evenly dust the top with flour. Drizzle the oil on top of the floured spinach in a criss-cross pattern. Bake the gratin(s) at 450 degrees F for 10 minutes, then turn down the heat to 375 degrees F and cook for an additional hour. (If using individual ramekins, the final cooking time at 375 F will be approximately 30 minutes.)
Leave a Comment
You must be logged in to post a comment.