Cheddar-Jalapeño Sour Cream Biscuits
I couldn't tell you exactly when I stopped ordering breakfast sandwiches through drive-through windows. It's been a while. Years. But it certainly wasn't during childhood when a fast food biscuit was a rare and welcome treat. Or during my single days in Nashville when, on the way to work, I rolled into a gas station every morning for a neon-pink muffin and some beef jerky, which I chased with a Red Bull. And I've already discussed my epic sugar intake during college and the vending machine diet that encompassed a year of my twenties – clearly, I was no foodie then, either.
No, it was in the years that followed, I changed. I started cooking more. And reading more about health and diet. And as a family we made lifestyle changes for the better. Today, we eat very little processed food, although some days are better than others. We buy organic food as our budget allows. We cook the majority of our meals in our own kitchen. I guess you could say we've become boring responsible, healthy adults. Cheers to that! Pass the champagne! Whiskey! Anything!
Cakes, cookies and the like are for special occasions, not weekly productions, although a few generous friends in bakeries and coffee shops around Birmingham spoil my children with an occasional treat and for that, I say, always and forever, thank you.
But at home, you won't find me serving my kids sugar bombs on a daily basis, certainly not a vanilla-buttermilk pancake tower loaded with sprinkles and milk chocolate ganache. Who does that?
OK, that happened. The confetti pancake creation served as Esmé's birthday cake – she loves pancakes.
What I'm trying to say is, more often than not, the recipes on this blog reflect the food we're eating around here: roast chicken, oven-baked garlicky broccoli, socca, you get the idea. We also like a few Donny Drapers in our life. We don't, however, eat a lot of flour- or sugar-laden goodies, but when we do, I'd like to think most of them are lovingly made from scratch — like these biscuits with their melty pockets of butter and cheese and diced jalapeño peppers scattered throughout, all parts held together by sour cream. Sour cream!
They're light and airy, bearing little resemblance to your standard, dense breakfast biscuit. We love them paired with a bowl of chili or a helping of pulled pork, but they're also perfectly satisfying all by themselves.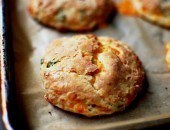 CHEDDAR-JALAPEñO SOUR CREAM BISCUITS
These biscuits don't rise as much as their fluffier morning counterparts, but I don't hold that against them. If you want a taller biscuit, my friend Amanda swears by placing the biscuits so close together on the pan that they have no place to go but up.
Makes approximately 1 dozen two-inch biscuits.
Ingredients:
1 1/2 cups all-purpose flour
2 teaspoons baking powder
1/2 teaspoon baking soda
1/2 teaspoon salt
2 tablespoons cold unsalted butter, cut into bits
1 1/2 cups sharp or extra sharp Cheddar cheese, coarsely grated
2 jalapeño peppers, diced OR 2 tablespoons drained and chopped pickled jalapeños*
1 tablespoon oil, if using fresh jalapeños
1 cup sour cream
Milk, half-and-half, cream or buttermilk, as needed
Optional: 3 tablespoons butter, melted (I really shouldn't make this optional)
* If you're using canned jalapeños, I would taste them before adding. Some brands are hotter than others, so adjust measurements accordingly.
Directions:
Preheat oven to 425 degrees F.
If using fresh jalapeños, heat the oil in a skillet. Add the jalapeños and cook until soft, approximately five minutes.
Whisk together the flour, baking powder, baking soda and salt in a large bowl. Using a pastry blender or a fork, cut the butter pieces into the flour mixture until well combined. Stir in the cheddar and jalapeños. Add the sour cream and stir until the mixture forms a sticky dough.  If needed, add milk, cream, etc. a tablespoon at a time until the dough comes together. (This part is messy. The dough will cling to the spoon, and you'll want to keep pushing it off the spoon and back into the bowl. Hang in there. It will come together.) Pat the mixture out on a well-floured surface to 1/2-inch thickness and use a biscuit cutter to cut out the biscuits.* Bake on ungreased or parchment-lined baking sheets for 15 to 17 minutes or until golden. Brush with melted butter.
*At this point, you can transfer the formed, uncooked biscuits to the freezer until you're ready to bake. Just add an additional minute or two to the baking time.
Leave a Comment
You must be logged in to post a comment.