Wild Mushroom-Brie Soup
One of my favorite haunts in Birmingham is Crestwood Coffee Company, our much beloved neighborhood coffee shop. It's my respite when I'm on a work deadline and need to flee the chaos at home. It's where I take the kids to enjoy an afternoon snack and play a game of Connect Four or Candy Land. It's a laid-back evening spot to share a bottle of wine with friends. I rarely walk in without receiving a nod or a smile from someone I know.
The coffee shop is, in many ways, the heartbeat of our eccentric, little neighborhood. It has a regular rotation of friendly, smart, quirky characters: nerds like me who burrow into the corner tables with their laptops, folks who sit outside at the café tables for a morning coffee and a smoke, the lively afternoon crew who gathers to watch jeopardy and shout out the answers (they're not bad), and those who drift in and out frequently — professors, artists and other locals.
Owners Danny and Alexis, both Louisiana natives, took over the coffee shop in 2010 and revamped the menu. Alexis is the resident baker extraordinaire. My kids adore her chocolate chip cookies; I'm partial to her pralines. The coffee shop's display case is overflowing with savory and sweet temptations, from quiche and breakfast sandwiches to scones, cakes and pies.
Crestwood Coffee also offers three soups a day, mostly Danny's creations. Danny is the kind of cook who instinctively knows his way around the kitchen without much mind for measuring. He's an outstanding cook, as evidenced by several recent awards. No one can compete with his gumbo. No one.
Danny's soups are seasonal and creative. A few recent offerings: black bean and sweet potato, roasted cauliflower, Brunswick stew, turtle gumbo (to die for), and oyster and artichoke bisque. My personal favorite, though, is his wild mushroom-brie soup. Danny knows this and will give me a heads-up when he's making a batch. Last year, a magazine asked me to name the most underrated dish in the city and I said, hands down, THIS SOUP.
But here's a confession: When I first tried the soup two years ago, it was mostly out of curiosity. At the time, I was on the fence about brie. It's a taste I've worked to acquire in my 30s after years of bemoaning that while I wanted to like brie, I just couldn't. (Proof again that one's palate is not absolute in adulthood.)
I loved the mushroom-brie soup from the first taste. It's rich and creamy with a base of puréed vegetables, cream and sherry. The mushrooms provide an earthy balance to the buttery brie, which gently perfumes the soup.
A cup is the perfect starter for an evening meal or a warming accompaniment to a lunchtime salad. Danny has kindly passed along his recipe so you, too, can enjoy this dreamy soup at home.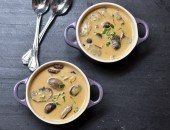 Yield: 8+ cups (2 quarts)
Wild Mushroom-Brie Soup
Ingredients:
1 1/2 pounds wild mushrooms, sliced (I use oyster, shitake, baby bella)
1/4 cup  + 2 tablespoons butter
1/2 cup chopped celery
3/4 cup diced onions
1/4 cup chopped garlic
1/3 cup flour
1/2 teaspoon fresh thyme
1/2 cup sherry
4 cups vegetable stock
2 cups half-and-half
1/2 cup heavy cream
1 cup Brie cheese, crumbled in pieces (white rind removed)
Pinch of cayenne (or more to taste)
Salt and pepper
Optional garnish: green onions or parsley
Directions:
Add a tablespoon of butter to a skillet and cook the mushrooms until brown on each side, being careful not to crowd them. Remove mushrooms, set aside. Add another tablespoon of butter and cook in batches until the remaining mushrooms are browned.
Melt ¼ cup of butter in a large soup pot over medium-low heat. Add the onions, celery and garlic and cook until soft, approximately 5-7 minutes. Add the thyme, flour and pinch of cayenne. Stir constantly until a light roux forms, approximately three minutes. Add the sherry, increase the heat to medium-high and let the mixture come to a boil. Add the stock and half-and-half and bring to a low boil. Reduce the heat and let simmer for 10 minutes.  With an immersion blender, puree the soup until smooth. Or, let the soup cool and blend it in batches in a blender before returning to the pot. Add mushrooms and let soup come to a boil. Reduce heat and simmer for 20 minutes. Add the brie and whisk to incorporate. Add the cream and simmer for 10 minutes. Taste. Season with salt and pepper. Garnish with green onions or parsley.
Inspired by Crestwood Coffee Company in Birmingham, Alabama.
Trackbacks/Pingbacks

Leave a Comment
You must be logged in to post a comment.