Savory Monkey Bread With Dill Butter
Warning: this savory monkey bread is strangely addictive. I've had several friends confide that they thought about the bread for days after eating it. Perhaps I inadvertently put a spell on them? More on that in a minute.

Another friend, when I suggested he and his fiancé drop by for a visit, said "Will you make those squishy bread things?" Deliciously squishy, yes they are. Also buttery, slightly salty, and if you like dill, well, this is the bread for you. Two generous tablespoons of dill are incorporated into the dough, and the individual bread pieces are rolled in a dill-infused butter prior to baking.
I suppose you could substitute another herb, but dill really deserves to be the star here. Plus, as I've recently learned, it has magical powers. The ancient Romans and Greeks used it as a medicinal herb, believing it could stop hiccups, cure insomnia, ease indigestion, alleviate colic, and even reduce stress. Many herbalists trace the word "dill" back to the Norse word "dilla," which means "to lull." During the Middle Ages, dill was widely used in potions, for casting spells and as an antidote to witchcraft. Need protection against hexes? Wear a small bag of dried dill over your heart.

Hey, this is useful information with Halloween approaching!
The spell recipe comes from Chef Chris Pandel, who serves the popular monkey bread at his Bucktown restaurant, The Bristol, in Chicago. I am grateful for an old college cohort who lives in Bucktown and was thoughtful enough to send me the recipe after enjoying The Bristol's monkey bread many, many times.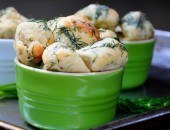 SAVORY MONKEY BREAD WITH DILL BUTTER
This bread takes two hours to make, and active prep time is just 15-20 minutes.
Ingredients:
For The Yeast
2 tablespoons warm water (about 110-115 degrees)
1 1/2 teaspoons dry active yeast
1 teaspoon white sugar
For the Dough
2 ¼ cups bread flour
1/2 teaspoon kosher salt
1/2 cup + 2 tablespoons whole milk
1 egg
3tablespoons butter, melted
2 tablespoons fresh dill, torn into small pieces
For The Dill Butter
8 tablespoons melted butter (6 tablespoons for the dill butter, 2 tablespoons for brushing during baking)
2 tablespoons fresh dill, torn into small pieces
Sea salt
Directions:
Make the Yeast: Combine the yeast, sugar, and warm water in a small mixing bowl. Set aside for ten minutes at room temperature to allow the yeast to proof. You should see bubbles forming at the surface.
Make the Dough: Whisk the flour and salt in the bowl of an electric mixer. Attach the dough hook and slowly add the yeast mixture to the flour, followed by the milk, egg, 3 tablespoons of melted butter and 2 tablespoons of dill. Mix on medium speed for 7 minutes -- dough should release from the side of the bowl and come together. Knead dough lightly with your hands. Transfer the dough to a lightly greased bowl, cover with plastic wrap or a towel and place in a warm place to rise for 30 minutes. (Tip: turn oven to "warm" or lowest setting for 10 minutes. Turn off. Place dough in oven with a towel on top of bowl. Let rise.)
Make the Dill Butter: While the bread is rising, stir two tablespoons of dill into six tablespoons of melted butter. Set aside.

Assemble the Monkey Bread: Preheat oven to 375 degrees. After the dough has risen, punch it down and roll into 1-inch balls.
Roll each ball in the dill butter and place the balls in individual ramekins. I generally use 1-cup ramekins and place about 7-8 in each one. They will rise before baking and again in the oven, so don't overfill your ramekins.
Allow the monkey bread to rise in a warm place for 20 minutes. Brush the bread again with the dill butter and sprinkle with sea salt. Bake for approximately 12 minutes, brushing twice throughout the baking with the remaining two tablespoons of melted butter. (Bread should feel very soft and springy when done.)
Serve immediately. For parties, I place a small fork in each ramekin for guests to pluck out a few pieces each.
Adapted from Chef Chris Pandel of The Bristol via Savory TV
9 Responses to "Savory Monkey Bread With Dill Butter"
Trackbacks/Pingbacks

Leave a Comment
You must be logged in to post a comment.