Salsa Verde
This salsa verde request and dedication goes out to my college friend, Woody, who declared in a voice of authority – OK, over text, but it was an authoritative text – that it was the best salsa verde he'd ever had.
Woody is well versed in many matters of importance: food, music, In Living Color reruns. He's also a nationally-recognized privacy law expert and a college professor with fancy degrees from fancy schools. We've had the pleasure of reconnecting with him and his charming wife since their return to Birmingham last year.
Those two can host a dinner party, and Woody's the kind of guy who, while carefully tending to a bubbling pot of Bolognese sauce, will captivate you with his expounding knowledge of the complexities of social media privacy – for example, why you should think twice before posting those racy pictures from spring break, Vegas or the family reunion. (Facebook friends, you know who you are.)
He will also tell you to stop what you're doing and change your passwords. All of them. And come on, "PASSWORD" is not a password. My husband, after hearing Woody discuss internet security risks on NPR's Talk of the Nation, immediately changed his passwords. Just when I had them all memorized.THANKS, Woody.
When Woody expresses his opinion, which is always measured, researched and articulate, people listen. He knows what he's talking about. And his name is Woodrow. You can't mess with that.
So take it from him, this salsa verde is worth firing up the food processor.
Herbs, lime juice, peppers, shallots, capers and other salsa players are blended together to form a condiment that works in a variety of settings: as a dip for vegetables or chips, a topping for tacos, a garnish for steak.
It's not a traditional Mexican salsa verde, as it has no tomatillos. And with the addition of poblano and jalapeno peppers, it's not a traditional Italian salsa verde either. Fruity olive oil and crushed garlic nearly push it into pesto territory, but I'm sticking with the salsa classification. There's a lot going on here.And it's good.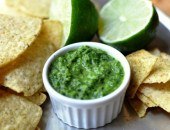 SALSA VERDE
The starting point, or rather, the inspiration for this recipe comes from Chef Frank Stitt's salsa verde, which I tweaked by adding peppers and fresh lime juice, eliminating certain ingredients like anchovies, reducing the amount of olive oil and vinegar, and substituting lime zest for lemon zest, among other adjustments.
Please don't spend much time chopping/dicing/prepping the herbs and peppers, as they will eventually be whirred away into oblivion, or Bolivian, as Mike Tyson would say.
Ingredients:
1 large shallot or 2 medium shallots, coarsely diced
2 pablano peppers, coarsely diced
2 cloves of garlic, crushed
¼ cup capers
½ cup fresh basil
½ cup fresh chives
½ cup fresh flat-leaf parsley
½ cup fresh cilantro + 1 tablespoon for garnish
¼ cup olive oil – a light, fruity olive oil works best here
¼ cup red wine vinegar
¼ cup freshly-squeezed lime juice
Zest of one lime
1 teaspoon salt
½ teaspoon pepper
* Optional, 1 jalapeno, coarsely diced (it will raise the heat quotient of the salsa)
Directions:
In a food processor, process the shallots, peppers, capers and garlic until smooth. Add the herbs and process for another few seconds. Add the vinegar, olive oil, lime juice, zest, salt and pepper and process until well combined. Transfer to a bowl and garnish with cilantro. Serve with chips, tacos, steak or anything that would benefit from some salsa verde love. I dig it on my eggs and beans. The salsa will keep in the refrigerator for several days.
Leave a Comment
You must be logged in to post a comment.