Roasted Garlic Mashed Potatoes With Brown Butter
Mashed potatoes don't appear on our dinner table often. Sadly, just once a year, usually on Thanksgiving or Christmas. I would make them more regularly but my children aren't fans. This, I don't quite understand. Mashed potatoes are a universally kid-friendly food, yes?
A few weeks ago, I made mashed potatoes as part of a meal for a friend. Given that I'm mashed-potatoes-deprived, I prepared extra so I could enjoy a bowl all to myself. You would have thought I was eating a bowl of ice cream after a week-long fast. They were transcendent. 

I'm not giving up on converting my kids yet. Jason recently declared that, for the first time in his life, he liked broccoli. My garlicky-roasted broccoli finally won him over. The evening of this epiphany, I pointed to something Walker was picking at on his plate and said, "See? Your father is proof. If you try something enough, you will eventually like it." Jason then commented that he had sampled broccoli "at least 1,000 times" before liking it. (An encouraging statistic for seven year olds everywhere.)
So, today I give you my favorite mashed potatoes recipe, brimming with flavor thanks to sweet roasted garlic and nutty brown butter. (Yes, the brown butter below looks like a frothy beer. And yes, I would drink it.)
In lieu of milk, I use sour cream to smooth out the texture and add a tangy creaminess. All parts work for good here.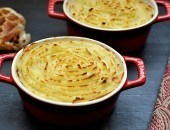 ROASTED GARLIC MASHED POTATOES WITH BROWN BUTTER
I like my mashed potatoes thick and textured. If you prefer a creamier version, you can add a half cup of milk, half-and-half or heavy cream at the end.
Ingredients:
3 ½ pounds potatoes (your choice), peeled and evenly diced
2 tablespoons kosher salt + more for seasoning
2 heads garlic
1 cup sour cream
½ cup + 2 tablespoons butter
Pepper
Directions:
Make the Roasted Garlic: Preheat oven to 400 degrees F. Cut the top off of each head of garlic. This should take care of the cloves in the middle, but you will need to individually trim the tops off the lower-lying cloves around the perimeter. You want all of the cloves exposed, so they evenly roast. Position a tablespoon of butter over each head of garlic. Transfer the garlic heads to ramekins with fitted lids or wrap each head tightly in aluminum foil. Bake for 45 minutes or until brown and caramelized on top. Let cool for 10 minutes. With a small fork or spoon, slide each clove out of its skin and into a bowl. With a fork, mash the garlic until it forms a paste. Set aside.
Make the Brown Butter:  Add ½ cup of butter to a heavy saucepan and heat on medium heat until the butter melts, the foam subsides, brown flecks appear and the butter turns medium brown. Immediately remove from heat. (It will continue to darken once you remove it from heat.) Set aside.
Make the Mashed Potatoes: In a large pot, add potatoes, salt and enough water to cover potatoes. Bring to a boil over medium-high heat and cook (approximately 15) minutes until potatoes are very soft and fall apart when poked with a fork. Drain potatoes and add them to the bowl of a stand mixer (or a large bowl). Using the whisk attachment (or a hand mixer or a fork), whisk (or mash) the potatoes on medium for 2-3 minutes. Add brown butter and the roasted garlic paste.  Whisk for another minute. Add sour cream. Whisk for another minute. If you want a smoother texture, whisk for another 3-5 minutes. Add salt and pepper to taste. (For a thinner consistency, you can mix in a 1/2 cup of milk, half-and-half or cream at this point.)
For added texture and an attractive presentation, transfer potatoes to a large casserole dish or individual ramekins and drag a fork in a circular motion over the top of the potatoes. Place potatoes under the oven broiler for 2-3 minutes until golden brown. Serve immediately.
Leave a Comment
You must be logged in to post a comment.