Roasted Broccoli with Garlic and Red Pepper
Like many of you, I'm currently doing ye ol' January detox, paying penance for all of the rich food I ate over the holidays. When in the throes of this detox, I have been known to frantically rifle through a kitchen drawer or two in search of long-forgotten chocolate. The diet is not a detox as much as it is a healthy way of living that I strive to maintain most of the time, except when I'm celebrating birthdays or anniversaries or when something doughy and buttery like savory monkey bread calls my name. Minus the weak moments, though, I feel physically better and am in an overall better mood when I'm eating meals that are low in carbohydrates, high in protein and plentiful in vegetables. This diet lends itself to a wide range of delicious food, like my current lunch staple: spicy, garlicky roasted broccoli.
I fire up my oven for a midday meal as often as possible because I work from home and because  we don't own a microwave; so, if I'm sitting down to eat lunch 20 minutes after I've started preparing it, I call that a win. This broccoli dish wins in many ways: it's simple, fast, inexpensive, healthy and full of flavor.
It's also conveniently versatile and adaptable to your preferences and what you have on hand in the pantry or refrigerator. As a side dish, it saddles up green and pretty next to steak or chicken. A diced pepper would be a nice addition as would a generous sprinkling of toasted almonds.  If you're not avoiding starchy foods like I am, you could melt parmesan on top of the vegetables the last few minutes of baking and then incorporate the cheesy-garlicky-broccoli goodness into a butter-glazed pasta.
You could do that. Yes, you should do that. Just don't tell me about it until February.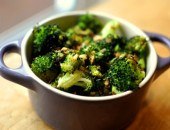 ROASTED BROCCOLI WITH GARLIC AND RED PEPPER
Ingredients:
1 1/2 pounds broccoli
3 large cloves of garlic, finely diced (use 2 cloves for a less garlicky dish)
Dried crushed red pepper (just a pinch if you want a hint of heat or 1/2 to 1 teaspoon if you want a heavy kick)
3 tablespoons oil (I use either olive oil or grapeseed oil)
Salt and pepper
Directions:
Preheat oven to 450 F. Separate the broccoli into small, individual florets. The smaller the florets, the crispier they get in the oven. Toss the broccoli well with two tablespoons of oil and spread on a baking sheet. Make sure the broccoli is spread out in one layer as you want each floret to have room to brown. Place the pan in the middle of the oven and roast for 10 minutes.
While broccoli is baking, finely dice your garlic and combine with the remaining tablespoon of oil in a small bowl. Add desired amount of red pepper flakes to the oil and garlic. Set aside.
After broccoli has baked for 10 minutes, remove from oven and add the garlic mixture to the broccoli, stirring well to combine. Make sure the broccoli is again spread out in a single layer and return to the oven for an additional 8 minutes. Stir the broccoli at least once to ensure the garlic roasts and browns evenly. Serve immediately.
You must be logged in to post a comment.