Pommes Maxim
To celebrate our wedding anniversary, I decided — housework and other responsibilities be damned — I was going to prepare an elaborate dinner, the kind that requires multiple appliances whizzing away on the counter; an afternoon spent chopping, whisking and sautéing; and cookbooks and recipe printouts scattered around the kitchen in such a way that I never find the one I'm looking for on the first try.
My husband, Jason, and I have been married eight years, and our first date was approximately 10 years ago, a night I fondly remember despite its unusual start. I had just stepped outside my apartment when I saw Jason's car turn onto my street. At the moment he should have started slowing down to park, he instead sped up and began waving enthusiastically to someone on the other side of the road. I stood there, confused, watching his car pass me by and continue down the road until it was out of sight. And then I realized there was no one on the other side of the road.
Typical.
He is, after all, one of a kind.

Not afraid to impersonate Santa.  (For the record, I pleaded with him to go easy on the stuffing.) 

Photo by Tony Rodio

Or sport a 'fro.


(100% natural)
But I digress…
Our anniversary fell on a Tuesday night, and while I was content to forego a night on the town, I did want the dinner to be a notch above the norm. After thumbing through a few saved recipes, I decided on Thomas Keller's butter-poached lobster with leeks, pommes maxim and red beet essence.The lobster was divine and I recommend Keller's poaching technique, but the pommes maxim were what really stole the show. They were also the easiest part of the meal to make.
Thinly sliced and tossed in clarified butter, the potatoes are arranged in overlapping circles on a pan and baked on low heat until golden and crispy. This elegant dish originated at the legendary Maxim's in Paris.

I nearly ruined my anniversary-dinner appetite nibbling on the pommes maxim while the lobster was poaching. Their incredible taste and texture make it impossible to eat just one, like biting into an otherworldly potato chip.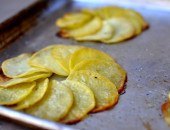 POMMES MAXIM
These are a snap to make if you use a mandoline to slice the potatoes. Although I covet the high-end, stainless steel mandolines on the market, the $20 one I purchased at my local grocery store more than adequately does the job.
Pommes maxim plate beautifully. Add a sprig of rosemary to the middle of each spiral, serve with a dollop of aioli on top, or just eat them hot right out of the oven.
Ingredients:
10 tablespoons unsalted butter
2 large Yukon Gold potatoes, peeled and sliced paper thin
Sea salt
Directions:
Heat oven to 300 degrees. Place butter in a saucepan over low heat. As the butter melts, skim the foam from the surface and discard. Slowly pour off the clear, golden, melted butter into a bowl, discarding any milky residue.
Toss the potato slices in a bowl with the clarified butter. Arrange the slices, overlapping, on a baking sheet and sprinkle with salt. Keller recommends using a nonstick baking sheet, but I don't own one and was still able to easily remove the pommes maxim from the pan with a metal spatula.
Bake the potatoes 45 to 50 minutes or until crisp and golden. They can be set aside at room temperature for 1-2 hours until you are ready to serve. To reheat, place them in a 325-degree oven for 10 minutes or until warm.
Makes approximately six servings, although this number may vary depending on how large your potatoes are and how many slices you use per circle.
Leave a Comment
You must be logged in to post a comment.