Peach-Pecan Muffins
Whenever I cook with pecans, I am reminded of high school summers spent working at a candy store that specialized in pecan pastries, pies, candy and ice cream. Every day, delicious smells drifted through the building as the kitchen staff whipped up various pecan confections as well as made-to-order items like pecan-chicken salad sandwiches and pecan waffles, which I fondly remember as always being served piping hot, topped with roasted pecans and drowning in pecan-maple syrup.
When the store, we'll call it The Barn, was busy, I would turn dizzying circles behind the register, scooping ice cream, weighing candy, slicing fudge and ringing up customers. When it slowed down, I would catch up on my never-ending list of tasks, like restocking shelves and scrubbing fingerprints off of the display cases. The owners, Mr. and Mrs. B., were hard workers and expected the same of their employees.
The Barn was a popular pit-stop for out-of-towners en route to the beach because of its proximity to the highway and because it made arguably some of the best ice cream in the state of Alabama. Mr. B. developed all of the ice cream recipes himself, and I loved hearing him reminisce about the numerous test batches they threw out before they got the ice cream just right.  During the store's busiest days, it never failed that when I'd finally catch my breath, a bus would turn into the parking lot and dump out dozens of customers eager to try one of The Barn's famous pecan ice creams.
 
The best-selling flavor, peach-pecan, was made with juicy Chilton County peaches that were peeled and frozen during the summer for year-round ice-cream making. Mrs. B. never allowed me to participate in the annual peach-peeling marathon because I was a "Yankee" and she feared my inexperience would lead to wasting valuable fruit.
The Barn didn't sell many breakfast pastries, but I think if Mr. and Mrs. B. tried these peach-pecan muffins, theywould make room for them on the menu. The pecans are roasted with butter and salt, just the way they like them. The recipe is adapted from a cupcake recipe, so the muffins are moist without being too dense. I also used fresh Chilton County peaches and dare say I did a decent job peeling them, even for a Yankee.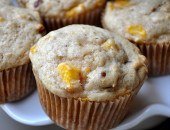 PEACH-PECAN MUFFINS
This recipe makes approximately 20 muffins. I have only one 12-cup muffin tin, and the remaining batter held up just fine sitting out at room temperature while the first batch of muffins cooked and cooled.
Ingredients:
3 cups cake flour
1 1/2 teaspoons baking powder
1 1/2 teaspoons baking soda
1 teaspoon salt + extra for the pecans
1 teaspoon cinnamon
Pinch of nutmeg
3/4 cup (1 1/2 sticks or 6 ounces) unsalted butter, at room temperature
1/2 cup granulated sugar
3/4 cup dark brown sugar, packed
2 large eggs, lightly beaten
1 teaspoon vanilla extract
1 1/2 cups buttermilk (**Or make your own! You'll need a scant 1 ½ cups milk + 2 ½ teaspoons lemon juice)
3 large peaches, peeled, cored, and chopped into small pieces
1 1/2 cups pecans, chopped
2 tablespoons melted butter
Directions:
Preheat the oven to 350°F. Line muffin cups with paper liners.
In a small bowl. stir the pecans into the melted butter, making sure they are all coated. Spread the pecans onto a baking pan and sprinkle evenly with salt. In the center of the oven, bake for 10-15 minutes or until the pecans are medium-brown and roasted. I find that the outer pecans roast quicker then the ones in the middle, so check from time to time and stir the pecans around accordingly.
**If you don't have store-bought buttermilk, you can make your own buttermilk or "sour milk" by adding 1 ½ tablespoons of lemon juice or vinegar to a scant 1 ½ cups of milk. Stir and let sit at room temperature for 10 minutes before using. It should look curdled.
Sift together the flour, baking powder, baking soda, salt, cinnamon and nutmeg in a bowl and set aside. Cream the butter, brown sugar and granulated sugar together with an electric beater or in the bowl of an electric mixer until fluffy. Add the eggs, one at a time, scraping down the sides and bottom of the bowl between each addition. Add the vanilla, then gently mix in the buttermilk. Stir in the dry ingredients and then fold in the peaches and pecans.
Divide the batter evenly among the prepared muffin liners. Bake for 18 to 22 minutes, or until a tester inserted into the center of the muffins comes out clean. Let the muffins cool for a few minutes before turning them out to cool completely.
Leave a Comment
You must be logged in to post a comment.