Pan-Fried Egg With Black Beans, Sriracha And Lime
Forgive me Louisiana, but right now my culinary holy trinity is black beans, eggs and Sriracha. If there's such a thing as a holy quartet, then add a lime to the group.
My breakfast for the past two weeks has consisted of a pan-fried egg, black beans, and a squirt (or 10, because I enjoy losing all feeling in my mouth) of Sriracha, with a splash of lime.  Spicy, zingy, comforting, it's a wholly satisfying marriage of eggs and beans.
Sriracha, for those of you who aren't dousing your plate with it every morning, is a spicy Thai sauce made with chilies and garlic.
I go to bed dreaming about this breakfast.

But it also makes for some transcendental lunch fare. Last weekend, after working in the yard, I made this for a midday meal, adding a diced shallot, jalapenos and pablano peppers to the skillet with the eggs and beans. Jason and I chased the burn with ice-cold Pacificos.  
That casual afternoon meal ranks as one of my favorites of 2012.
You should do this.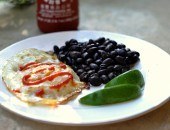 PAN-FRIED EGG WITH BLACK BEANS, SRIRACHA AND LIME
The cooking method for the egg is quick and dirty, unlike my slow-cooked version. Variations to this dish are endless, but I would submit that it's mighty fine as is.
Ingredients:
1/2 tablespoon butter
1 egg
1/2 cup cooked black beans
Salt and pepper
1 teaspoon Sriracha* (or more or less to taste)
1 lime wedge
*NOTE: Sriracha can be found in the international aisle of most grocery stores.
Directions:
Melt the butter in a skillet over medium heat. When the butter starts to bubble, add the egg and cook for 2-3 on each side or until it's cooked to your liking. When the egg is about a minute away from being fully cooked, add the black beans to the skillet and cook until warmed through, stirring once or twice. Transfer the egg and beans to a plate. Season with salt and pepper, being mindful not to add too much (or any) salt to the beans if you're using the seasoned canned variety. Add the Sriracha and several squeezes of lime. Chop the egg, stir the beans around, mix until the hot sauce is evenly distributed — this is what I do, anyway. Mine is ready to eat when it looks like a glorious mess.
Leave a Comment
You must be logged in to post a comment.