Mexican Grilled Corn (Elote)
Elote (ay-loh-tay) is popular street food in Mexico and parts of the United States. In this version, the corn is grilled then slathered in a mayonnaise-sour cream sauce with cheese, cilantro, spices and lime juice. I varied the recipe last week, cutting the grilled corn off the cob and spooning the sauce on top of each serving, which is called esquites (es-key-tez).
Forgive me, but I can't mention corn on (and off) the cob without sharing comedian Mitch Hedberg's rant about its tragic mislabeling:
You know they call corn-on-the-cob, "corn-on-the-cob," but that's how it comes out of the ground. They should just call it corn, and every other type of corn, corn-off-the-cob. It's not like if someone cut off my arm they would call it "Mitch," and then re-attach it and call it "Mitch-all-together."
Hedberg's food commentary is almost always insightful — like his observation that "a burrito is a sleeping bag for ground beef."
But I digress…
Corn-on-the-cob! Corn! Sweet and juicy, it's hard to improve on simple grilled corn, but this creamy sauce gives it a spicy, tangy twist. If you're making it for a crowd, serve with plenty of lime wedges and a bucket of cold Pacificos.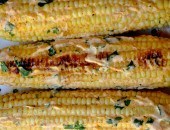 MEXICAN GRILLED CORN (ELOTE)
Ingredients:
1/4 cup mayonnaise
4 tablespoons sour cream
3 tablespoons chopped fresh cilantro leaves
1 teaspoon chili powder
1/4 teaspoon ground black pepper
1/4 teaspoon cayenne pepper (optional)
4 teaspoons juice from 1 lime
1/2 cup shredded parmesan cheese (or preferably cojita if you can find it)
4 teaspoons vegetable oil
1/4 teaspoon salt
6 ears of corn, husks and silk removed
Directions:
Prepare a hot grill.
While the grill is heating, add the vegetable oil to a large bowl and whisk in the salt and 1/2 teaspoon chili powder. Add the corn and toss evenly to coat all sides.
In a separate bowl, mix together the mayonnaise, sour cream, cilantro, chili powder, black pepper, cayenne pepper, cheese, lime juice and remaining chili powder. Set aside.
Cook the corn on high heat with the grill lid down, turning the corn occasionally until it is lightly browned on all sides, approximately 10 minutes. Remove the corn from the grill and let cool for 2-3 minutes. Roll the corn in the mayonnaise mixture, coating evenly. Serve immediately.
Leave a Comment
You must be logged in to post a comment.