Melon-Prosciutto Salad With Honey Vinaigrette
This summer dish is another inspiration from our dining experience at Husk, where we ordered a melon salad that was plated so beautifully I felt guilty plunging my fork into it. We loved the sweet-and-savory flavors of cantaloupe, honeydew melon and country ham, and the peppery honey vinaigrette was a nice accompaniment.
The most intriguing ingredient in the salad, however, was what appeared to be a nearly-translucent melon, dispersed in shavings around the plate. This mystery melon, we learned, was a sprite melon – a small, white melon with an impressively high sugar content and accents of apple, pear and watermelon. Word to the wise: do not fall in love with the sprite melon unless you live in or close to North Carolina, where it is exclusively grown. I had to learn the hard way.
We have since treated ourselves to this version of Husk's melon salad as a light afternoon snack. It takes less than ten minutes to prepare and pairs with most bottles of my favorite pocketbook-friendly summer wine: Vinho Verde, a wine that Food & Wine describes as having a "lightly spritzy quality…a razor-sharp acidity and ocean freshness."

Many thanks to our neighbor, Scott, for introducing us to this lovely bottle of Vinho Verde as well as suggesting that a Grüner Veltlinerwould also play nicely with the salad.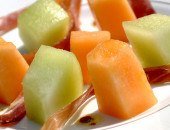 Melon-Prosciutto Salad With Honey Vinaigrette
Ingredients:
2 cups cantaloupe, cut into cubes or slices
2 cups honeydew melon, cut into cubes or slices
6 slices prosciutto, cut into ¼ inch strips
2 tablespoons balsamic vinegar
4 tablespoons olive oil
2 teaspoons honey
Salt and freshly-ground pepper

Directions:
Make the Vinaigrette: Whisk the honey into the balsamic vinegar. Add a dash of salt and pepper to taste. Whisk in the olive oil.
Assemble the Salad: Lightly drizzle the vinaigrette over a large plate (or small plates if serving individual portions) – don't drizzle a lot to begin with as you don't want to overpower the fruit. You can always add more later. Arrange the prosciutto and melons on the plate.
Leave a Comment
You must be logged in to post a comment.