Maque Choux
While no one is certain of its exact roots or the derivative of its name, maque choux is believed to be of southern Louisiana heritage and influenced by Native American culture.
I've seen it called "smothered corn" – an apt description when it comes to this particular recipe, which calls for various degrees of smothering.
First things first, the corn is coated in toasted sesame oil before it's transferred to a hot oven for roasting.
Meanwhile, diced red pepper, onion and garlic are tossed into a cast-iron skillet, where they sizzle in bacon fat — not enough fat to be offensive but enough to do the job.
When all parts are reunited in the pan, heavy cream is added to lightly coatthe vegetables and bacon.
A few years ago, I made a Cajun feast for a group of friends with maque choux, crawfish étouffée and jambalaya as the heavy hitters.  The maque choux vanished within minutes, and when a guest asked me if he could lick the bowl, I thought he was joking.
He wasn't.
That more or less sums up my friends the greatness going on here. If you don't want your dinner guests behaving like animals, you best click away now.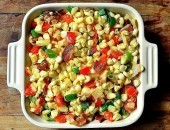 MAQUE CHOUX
I've made a few changes to the recipe over the years, reducing the cream to 3/4 cup, which more than adequately covers the vegetables, and doubling the amount of red peppers.
For a vegetarian version, I recommend substituting the bacon with a quality vegetarian bacon, as you'll appreciate some saltiness as a contrast to the sweetness in the dish.
If you want to take the Cajun theme all the way here, use tasso ham instead of bacon (if you can find it — check a gourmet butcher). Tasso ham, a Cajun specialty, is cured pork seasoned with spices and herbs.
Ingredients:
8 ears of white corn, shucked
2 tablespoons toasted sesame oil
6 pieces thick-cut bacon
1 white onion, diced
2 large red bell peppers, diced
½ tablespoon olive oil
1 tablespoon minced garlic
3/4 cup heavy cream
Salt and pepper
5 green onions, green parts only, finely diced
Directions:
Preheat oven to 425 degrees F. Rub the sesame oil on the corn cobs and wrap them in aluminum foil.  Bake the corn for 30 minutes. When cool, remove the foil and, with a knife, scrape the corn kernels from the cob. Transfer the corn to a bowl.
Cook the bacon in a large skillet (preferably one with a fitted lid) and transfer to a paper-towel lined plate. When cool, break the bacon into small pieces and set aside. Discard all bacon fat in the skillet except two tablespoons.  Add the onions to the skillet and cook for five minutes on medium-high heat. Add the red peppers and cook for an additional five minutes. Add the ½ tablespoon of olive oil to the center of the skillet and let heat for 30 seconds. Add the garlic to the oil and cook for two minutes. Add the corn and half of the bacon and cook for two minutes, stirring several times.
(At this point, if your skillet does not have a fitted lid, you will need to transfer the corn mixture to a pot or large skillet with a fitted lid.)
Add the cream to the skillet or pot, cover with lid and cook on medium heat for six minutes. The cream should be bubbling enough to cover the corn. Add salt and pepper to taste.
Remove from heat, add the green onions and remaining bacon. Serve immediately. Maque choux can be made up to a day ahead of time and stored in the refrigerator. I always add ¼ cup cream to the cold maque choux prior to reheating.
Leave a Comment
You must be logged in to post a comment.