Maple Syrup-Roasted Tomatoes
Tomato candy. That's more or less what these caramelized beauties are.

Are you drowning in tomatoes? Or are you pouting like I am that your tomato vines are now singing their swan song? According to my friend, Amanda, who lives in Indianapolis, the Midwest is overrun by tomatoes at the moment. In an email, she writes,

I've never seen so many tomato recipes in my inbox or on facebook. Neighbors are learning to can. There are random tomatoes on my porch from neighbors who can't make another pot of roasted tomato soup. Nobody wants salsa anymore. The kids are on my case to pick the ripe ones. I can't keep up. I have decided it is good for the earth to leave overly ripe ones in the garden to rot and provide seeds for next year.
For those of you with an abundance of tomatoes, please allow me to cram a few more submissions into your already overflowing recipe box, including a lovely tomato tart – with goat cheese and honey! — to showcase get rid of your garden surplus.
For those of you lucky enough to be in possession of cherry or grape tomatoes, please don't let them rot on the vine or in a basket on your table like I might have done last week. Please give them some love – preferably some maple syrup love. It requires hardly any commitment on your part: simply toss 'em with maple syrup, olive oil, thyme and garlic and let your oven do the rest of the work.
Voilà!
A few weeks ago I tested this recipe using black cherry tomatoes from our garden. They were so good I ended up eating many of them straight off the baking pan. The tomatoes came out of the oven caramelized to the point of being sticky (yes to that), but they still retained a savory quality — an earthy, tomato-y quality if you will — in each bite after that initial burst of sweetness.
I was drawn to this recipe because the syrup-roasting technique was touted as a way of bringing out remarkable flavor in not-so-flavorful, off-season tomatoes. Tim over at Lottie + Doof featured this recipe in March 2011 when he was longing for a taste of summer. He was pleasantly surprised at how much this method dressed up store-bought tomatoes. I tested it with grocery store grape tomatoes (pictured in this post) and agree. I'll certainly be revisiting the recipe in the winter months to come.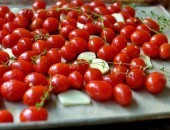 MAPLE SYRUP-ROASTED TOMATOES
I liked Tim's adaptations to the original recipe, so that's what you'll mostly see here. I'm partial to using thyme sprigs in addition to the stemmed thyme because I love thyme and because I still have a lot growing in my garden. Use as little or as much as you wish.
Thoughts on serving: Arrange the tomatoes on crusty bread with goat cheese and a drizzle of olive oil. Use them as a topping for homemade pizza. Skewer them on toothpicks for an hors d'œuvre. You can also, always and forever, forgo all formalities and eat them straight off the pan.
Ingredients:
20 cherry or grape tomatoes, whole or halved
2 tablespoons maple syrup
2 tablespoons olive oil
4 sprigs fresh thyme, stemmed
2 cloves garlic, thinly sliced
Pinch of red pepper flakes
Salt and freshly ground black pepper
Directions:
Preheat oven to 250 degrees F. Whisk together the maple syrup, oil, thyme, garlic and red pepper. In a bowl, combine the syrup mixture with the tomatoes, stirring gently until evenly coated. Pour the tomatoes and thyme-garlic-syrup mixture onto an aluminum foil- or parchment-lined baking sheet (with rim). Spread the tomatoes out in an even layer. If using halves, arrange the tomatoes cut-side up. Season lightly with salt and pepper. Bake until tomatoes are half-dried and concentrated, approximately 3 hours*. Taste. Season again with salt if needed.
*  NOTE: Cooking time will vary depending on your texture preference. Tim recommends 2-3 hours. The original recipe advises 3-4 hours. I found 3 hours was about right
Leave a Comment
You must be logged in to post a comment.