Lady Pea Salad With Buttermilk Vinaigrette
My husband hounded me for most of July to recreate a salad we ate at a church get-together. He enjoyed this salad so much we joked it was a religious experience. I realize the mention of church salad may evoke less-than-savory memories of potluck dinners and salads of the wobbly, congealed variety with floating chunks of mystery fruit. Let me ease your fears: 1) This salad does not involve jell-o; and 2) It was the creation of a church member who was formerly a chef at the James Beard-nominated Hot And Hot Fish Club and is now a test kitchen professional at Cooking Light. So, yes, the man knows how to make a salad.
My husband normally loathes creamy dressings, and I have heard him remark on more than one occasion that he cannot understand why anyone would choose to bury their greens under something "that resembles oil paint." The buttermilk vinaigrette in this salad, however, is zestier and a bit lighter than its creamy counterparts. It does not overpower the plate; rather, it brings to life the cherry tomatoes, lady peas and mixed greens.
I am obsessed with lady peas and think of them as the southern belle of the pea family: tender but firm (they won't get mushy after cooking) with a delicate, subtly sweet flavor. In Alabama, I can find them fresh in most grocery stores this time of year, but you can substitute with purple-hull, black-eyed, pink eye or crowder peas.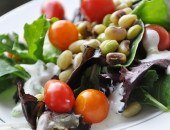 LADY PEA SALAD WITH BUTTERMILK VINAIGRETTE
Ingredients:
8 cups mixed greens
1 1/2 cups fresh lady peas (or purple-hull, black-eyed, pink eye, or crowder peas)
1 1/2 cups cherry tomatoes, whole or sliced in half, depending on your preference
2 tablespoons white wine vinegar or cider vinegar
2 tablespoons fresh lemon juice (see *Note if you make your own buttermilk)
1/2 small shallot, finely minced
1/2 cup buttermilk (or make your own – see *Note)
1/3 cup mayonnaise
2 tablespoons sour cream
2 tablespoons extra virgin olive oil
Salt and pepper
Directions:
Bring a large pot of salted water to boil and cook the peas for approximately 10 minutes or just until tender. Drain and cool completely.
In a small bowl, combine the vinegar, lemon juice and shallot. Slowly whisk in the buttermilk, mayonnaise, and sour cream. Slowly whisk in the olive oil. Add salt and pepper to taste. Any leftover dressing can be refrigerated for up to five days.
Arrange the greens on the plate, add the peas and tomatoes, and gently ladle the buttermilk vinaigrette over top.
*NOTE: If you don't have store-bought buttermilk, you can make your own buttermilk or "sour milk" by adding ½ tablespoon lemon juice or vinegar to a scant ½ cup of milk. Stir and let sit at room temperature for 10 minutes before using. It should look curdled. If you choose to make your own buttermilk with lemon juice, I recommend reducing the amount of lemon juice in the vinaigrette to 1 tablespoon.
Leave a Comment
You must be logged in to post a comment.