Grilled Figs with Prosciutto, Walnuts, and Lemon-Mint Cream
My friend Liesa, she of many talents — including fire-ball-twirling!, brought over a lovely platter of local figs, goat cheese and candied walnuts one evening in July. The unique combination was a hit and reminded me of a grilled figs appetizer I have, for whatever reason, resisted ordering at Highlands Bar & Grill. It's a regular on the menu when figs are in season, roughly July through September. We found ourselves at Highlands a few weeks ago, and I decided to finally order the figs, mostly because I wasn't all that hungry and figured if the appetizer wasn't my thing I could make up for it with another bourbon.
The grilled figs turned out to be, much to my surprise, deliciously complex – buzz-inducing, even. (I swear it wasn't the bourbon.) It's hard to describe the flavor combination; in each warm bite, you have the crunch of a walnut, the sweetness of a tender fig, and the saltiness of crispy prosciutto, with the faintest hint of lemon and mint from the cream sauce.
I was thrilled to track down the recipe in the Highlands cookbook, but my excitement was short-lived because nary a fresh fig was to be found in the days that followed. I scoured grocery stores. I made phone calls. I stalked produce trucks – ok, not really. Point is, I looked high and low, and just when I had given up, the skies parted and some Black Mission figs appeared at Whole Foods.

I prepared and grilled the figs according to the recipe, which is a breeze, and they definitely rivaled the ones I enjoyed at the restaurant. With a new passion for figs, I sent an overly enthusiastic email to my foodie friends, complete with pictures and instructions, begging them to make the recipe. It wasn't until later that I realized the email read much like those in my spam folder, the kind riddled with numerous exclamation points and promises of making your life and, ahem, other things, better if you just give this a try!
In lieu of spamming more friends, I am posting this public plea for you to try this appetizer before fig season ends, which is any day now. If you're on the fence about figs – maybe because your experience with them is like mine (primarily limited to chewy, cardboard-like cookies) – this quite possibly will make a fig lover out of you.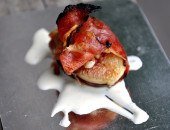 GRILLED FIGS WITH PROSCIUTTO, WALNUTS AND LEMON-MINT CREAM
Ingredients:
2 tablespoons mint, finely chopped
Juice from 1 1/2 lemons
1/2 cup heavy cream
Salt and freshly ground black pepper to taste
8 ripe Black Mission figs
16 walnut halves
16 very thin slices prosciutto
Directions:
Prepare a hot grill.
In a small bowl, add the mint to the lemon juice and whisk for a few seconds. Set aside for 5-10 minutes. (I prepare the figs, which is the next step, while the mint steeps in the lemon juice.) Strain the juice into a medium bowl.  Whisk the cream into the strained lemon juice, then add salt and pepper to taste. The acidity of the lemon juice will thicken the cream.
Halve the figs and place a walnut half on the cut side of each. Wrap a slice of prosciutto around each fig half, so the fig and walnut are fully enclosed.
Grill the figs for about 30 to 60 seconds per side. Time will vary depending on the heat of your grill, so adjust cooking time accordingly. The figs should be just warmed through and the prosciutto crisp in parts.
Serve with a bowl of the lemon-mint cream.
Leave a Comment
You must be logged in to post a comment.