Celery Salad with Walnuts and Parmesan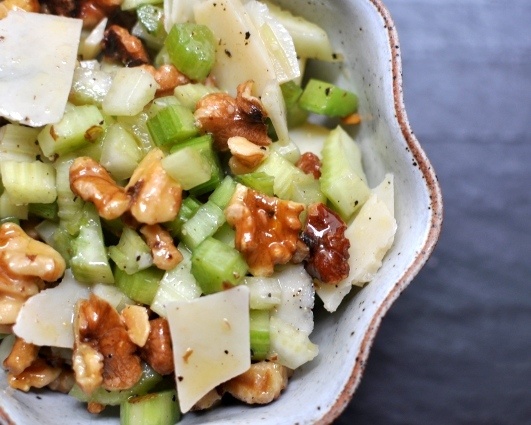 This post may be unexpected for those following me on Instagram or Facebook, where last week I paraded pictures of a chocolate cake to end all chocolate cakes: a 10-layer chocolate truffle cake. If you were hoping for cake today, I apologize. There were ups and downs in the arduous process of making that cake, but in the end, there was chocolate cake and it was good. Arguably the best chocolate cake I've ever made.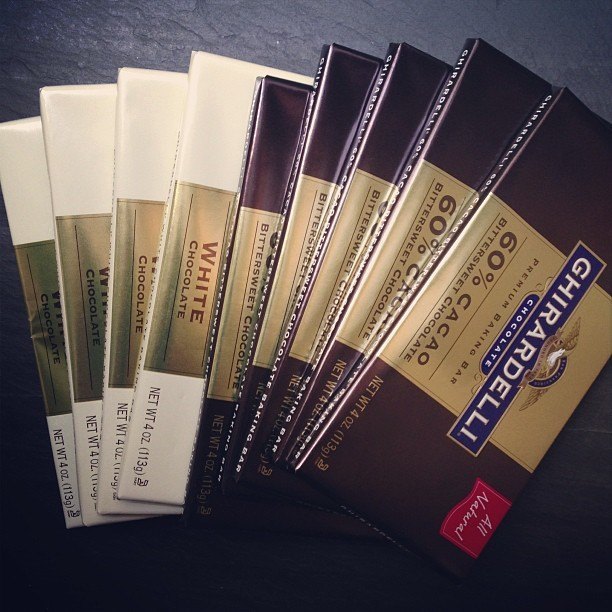 In addition to requiring a ridiculous amount of work, the cake required a lot (see image above) of chocolate.  I told a friend if I ever mentioned making that cake again to please save me from myself. Once my kitchen was back in its rightful order, however, and I wasn't scraping cake crumbs out of  kitchen crevices or scrubbing ganache off of appliances, I started thinking fondly of that monster cake with its endless layers of white chocolate and dark chocolate ganache sandwiched between fudgy cake and covered in chocolate buttercream. It's certainly worthy of a post as it was fawned over by all who tried it. But here's the hold-up: the recipe needs tweaking. Not only is it not home-cook-friendly, but some of the measurements are woefully off. (Runny white chocolate ganache was nearly the end of me, and I don't want it to be the end of you). A post for another day.
Today – get excited – we have celery salad! I realize vegetables are hardly a consolation prize when one was is expecting cake. But if you're a celery fan, this salad could light up your life or at least your lunch. It did mine.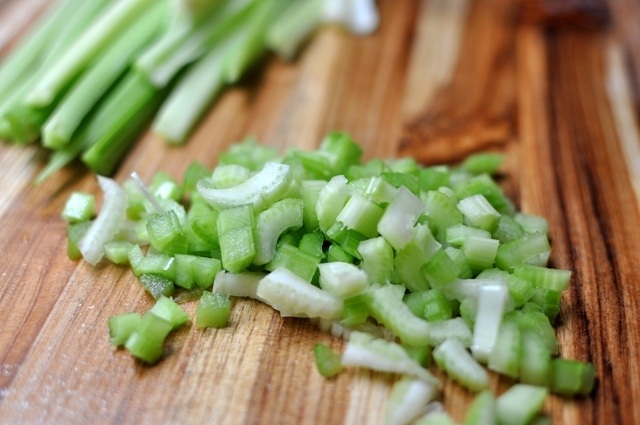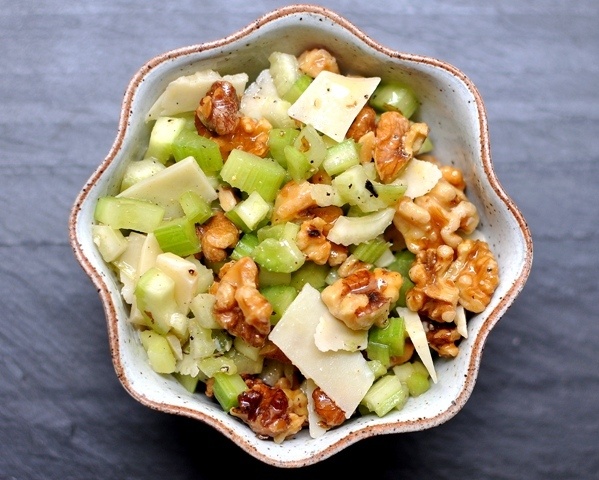 Finely chopped celery is accented by buttery, toasted walnuts and shaved parmesan,  lightly dressed with olive oil and red wine vinegar. It's simple, satisfying and packs a lot of crunch.  It makes for a refreshing side to balance the warmer months' heavier picnic fare of hotdogs and potato salad.  I've found it a bright accompaniment to a midday sandwich. It will continue to be a welcome salad on our summer table.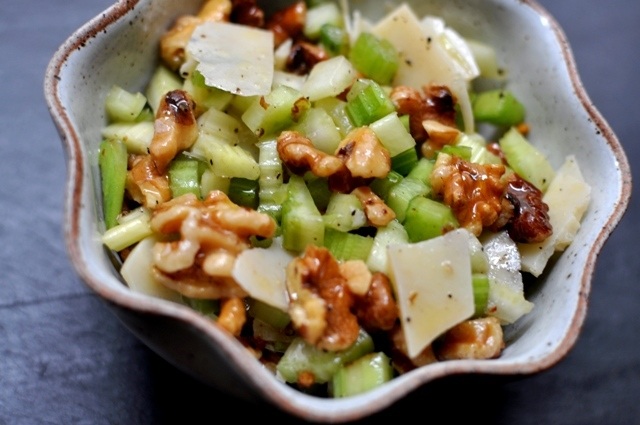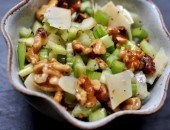 Celery Salad with Walnuts and Parmesan
Ingredients:
1 cup walnuts
1 tablespoon red wine vinegar
1/4 cup extra-virgin olive oil
1/2 teaspoon salt
8 large celery stalks, thinly sliced or diced to your preference
1/2 cup shaved parmesan cheese
Black pepper to taste
Directions:
Preheat oven to 350 degrees F. Spread the walnuts on a baking pan and roast for 7-10 minutes until golden. Let cool and coarsely chop.
In a small bowl, whisk together the vinegar, olive oil and salt. In a salad bowl, mix together the walnuts, celery and parmesan. Add the vinegar-oil mixture. Season with black pepper to taste.
5 Responses to "Celery Salad with Walnuts and Parmesan"
Leave a Comment
You must be logged in to post a comment.