Caramelized Pumpkin Cake with Maple Syrup Sour Cream and Spiced Pecans
This recipe is all about technique: make the cake, freeze it, cut the cake into rectangles, roll the rectangles in sugar and cook the cakes on all sides in a hot skillet. The last part of the process is key because it caramelizes the outside of the cake, wrapping it in a thin, crispy layer of sugar while warming the inside.
We have the creative folks at Oxheart in Houston, Texas (via Bon Appétit) to thank for this brilliant technique.
The original recipe features a chocolate-juniper cake with milk jam crème fraîche. I wasn't crazy about the juniper flavor, but the texture of the cake's brûléed four sides was so interesting that I began using the caramelization technique on my favorite chocolate cake. A friend called it a "brownie on steroids."
Some other variations I've dreamed up but have yet to try include caramelized yellow cake with fresh fruit and crème anglaise, caramelized carrot cake with cream cheese ice cream and toasted walnuts, caramelized strawberry cake with vanilla whipped cream and chocolate shavings. The list goes on.
Thanksgiving, however, demands a fall perspective, so today I bring you caramelized pumpkin cake with maple syrup sour cream and spiced pecans.
The maple syrup sour cream adds a tangy contrast to the cake (which has, for the record, been lauded all over the internet as one of the best pumpkin cake recipes around), and the spiced pecans are sweet and salty with just a smidgen of heat.
Happy Thanksgiving, everyone.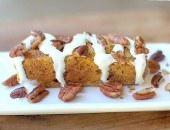 Yield: Serves eight to ten
CARAMELIZED PUMPKIN CAKE WITH MAPLE SYRUP SOUR CREAM AND SPICED PECANS
First, I must give credit to Tim over at Lottie + Doof for introducing me to this technique. Tim knows how to pick winners. For his take on the chocolate-juniper version, click here.
A few recipe notes: Although you see my 8-inch square pan in the pictures above, I should have used my 9 x 13 x 2-inch pan. The cake rose more than I thought it would and was about a 1/3 thicker than I wanted. I had to cut each cake rectangle in half lengthwise to get the sizes I wanted for the final presentation. If you use a 9 x 13-inch pan, your rectangles shouldn't need much trimming.
I nearly called the pecans "praline spiced pecans" but the recipe title was already bordering on over-the-top, so just know that some of the pecans will have a candy-like coating coming out of the oven. (You don't see any of the heavily coated-praline pecans in the photos above because 1) I didn't mix my pecans very evenly in the spice-butter mixture — learn from my mistake and 2) Jason got to the good ones before I took pics. I forgive him.).
This works great for a fall-inspired dessert or a rich breakfast treat.
Ingredients:
For the Maple Syrup Sour Cream:
1/2 cup sour cream
1 1/2 tablespoons maple syrup

For The Spiced Pecans:
1 cup pecan halves or pieces
2 tablespoons melted butter
2 tablespoons brown sugar
3/4 teaspoon cinnamon
1/2 teaspoon salt
1/8 teaspoon cayenne
For The Pumpkin Cake:
1 stick (4 ounces) unsalted butter, at room temperature, plus more for the pans
1 cup firmly packed dark brown sugar
1/3 cup granulated sugar
2 cups cake flour
2 teaspoons baking powder
1 teaspoon baking soda
1 teaspoon ground cinnamon
1/2 teaspoon ground nutmeg
1/8 teaspoon ground cloves
1/2 teaspoon salt
1/4 teaspoon freshly ground black pepper
2 large eggs
1/2 cup buttermilk (to make your own, see note*)
1 teaspoon vanilla
1 1/4 cups canned solid-pack pumpkin
Optional: 1 teaspoon ginger (Optional only because I didn't have any and the cake still turned out terrific. If you have it handy, by all means use it.)
*NOTE: You can make your own buttermilk or "sour milk" by adding ½ tablespoon of lemon juice to a scant ½ cup of milk or half-and-half. Stir and let sit at room temperature for 10 minutes before using. It should look thick curdled.
Directions:
Make the Maple Syrup Sour Cream: In a small bowl, stir the maple syrup into the sour cream until well combined. Refrigerate until ready to use.
Make The Spiced Pecans: Preheat oven to 350 degrees F. In a bowl, stir the cinnamon, brown sugar, cayenne and salt into the melted butter until well combined. Add the pecans and stir until they're evenly coated. Spread in one layer on a baking pan and bake for approximately 8-10 minutes. Set aside to cool. Pecans can be stored at room temperature until ready to use.
Make The Pumpkin Cake: Preheat oven to 350 degrees F. Butter a 9x13x2-inch casserole dish or cake pan. Butter the pan/dish, place parchment paper in bottom of pan and butter the parchment paper.
In a stand mixer, beat the butter, brown sugar and white sugar on medium speed until well combined, scraping down the sides as necessary, approximately three minutes.
Sift the flour, baking powder, baking soda, cinnamon, ginger, nutmeg, cloves, salt and pepper in a medium bowl. In a separate bowl, stir the vanilla into the buttermilk and set aside.
Add the eggs, one at a time, to the butter-sugar mixture and mix on medium for 30 seconds after each addition. Alternate adding the flour and buttermilk mixtures, beginning and ending with the flour. Beat in the pumpkin until smooth. Pour the batter into the pan. Bake the cake until a toothpick inserted into the center comes out clean, about 30 to 40 minutes. Cool the cake. Cover well and transfer cake to the freezer until frozen, approximately 2 hours. (Cake can be frozen up to three weeks in advance.)
Remove cake from freezer and invert onto a work surface. With a serrated knife, cut rectangles in lengths of your choosing. Trim the tops of the cake if they're overly rounded. Roll the rectangles generously in sugar. In a large pan or skillet on medium heat, heat the cakes approximately 30 seconds on each side, rotating with tongs as necessary until each side is evenly browned. Keep a close watch, as they'll burn quickly.
Transfer each cake rectangle to a plate, garnish with the maple syrup sour cream and spiced pecans. Serve immediately.
Leave a Comment
You must be logged in to post a comment.