Cajetas de Coco (Coconut Truffles)
In the weeks leading up to our dinner reservation at Atlanta's underground supper club, PushStart Kitchen, I kept close and curious watch on Chef Zach Meloy's ever-changing menu.
PushStart Kitchen's Instagram feed is a visual treat of both wonder (see s'mores below) and torture (see s'mores below).
Meloy's riff on s'mores, if you're wondering, is a small slab of Mexican chocolate cremeux flanked by toasted coconut ice cream, pistachio praline and ancho chili marshmallows with bananas and a garnish of cajeta (Mexican caramel).
Meloy's photos give a glimpse into the daily tasks required to pull off a 16-person supper club. His images are fascinating: lotus root wheels, towers of stacked watermelon discs, candied pumpkin cubes, containers branded with blue labels that tease with descriptions like tomato caramel, arugula pesto, pickled onion aioli, cilantro gel, chipotle apple butter. And the photos of his final plated courses are appetite-rousing: roasted garlic French toast, tomatoes nine ways, smoked maple bread pudding, kale ravioli with preserved lemon ricotta and chicharron (fried pork skins).
Here's a look… Let's start with some black pepper meringues…
Garnishes galore…
Sous vide pork loin, sour cherry and smoked salt…
Meloy's plating sketches…
On PushStart Kitchen's website, "candy + cordial" is listed as the final course. This description never changes. The other courses, meanwhile, vary  significantly week to week. This mystery candy, I would learn, is a cajeta de coco (coconut truffle), the triumphant finish to an evening at PushStart Kitchen. Ask anyone who's experienced it — the memory lingers.
The truffles are one of the many Latin touches you'll find on Meloy's menu, inspired by his wife and partner, Cristina, who seeks out the sweet delicacies whenever she returns to her native Costa Rica. Meloy rolls his cajetas de coco in honey cactus powder (think honey sugar), which gives them a slightly crunchy exterior. Inside, they have a meltingly soft center. While there are wisps of coconut scattered throughout, the flavor of coconut is understated – more dominant are notes of caramel, cream and honey. The truffles, to use one of my favorite Richard Olney quotes, "must be tasted to be believed."
With more than a decade of culinary experience, Meloy, originally from Georgia, and Cristina started PushStart Kitchen as a 10-person supper club in June 2011. In the beginning, they transported the food from their home kitchen to another site, where Meloy used a griddle to reheat everything. Guests raved. Word spread. PushStart Kitchen's following increased, and it began garnering local recognition.
In March 2012, the Meloys moved to a studio in Atlanta's Goat Farm Arts Center — a 19th century complex with industrial buildings, a cotton mill and goat farm — and were able to start hosting the supper club in their own space. Several months later, PushStart Kitchen's continued success allowed Meloy and Cristina to leave their full-time jobs to focus solely on running the supper club.
Today, they invite up to 16 guests, most of whom arrive as strangers, into their home three nights a week for a four-course meal, five if you count the appetizers and cocktails served before everyone is seated.
Jason and I, along with our friends Woody and Jen, were four of their guests on a beautiful evening last September. Meloy served a vegetarian menu (below), which he offers once a month.
The evening we visited, Meloy along with Cristina, then seven months pregnant, and her mother, Leidy, ran the show — cooking, serving, plating, clearing the table, filling wine glasses — for the three-plus hours we were there. The atmosphere was casual and comfortable. The food? It lived up to the hype, and I'm not even a vegetarian.
When it came time for the final course — the much-anticipated candy + cordial — Meloy poured everyone a generous shot of buckwheat honey moonshine, while Cristina passed around a bowl of cajetas de coco.
PushStart Kitchen will likely serve its final supper club meal sometime in 2013, as Meloy is in the active planning stages of opening a restaurant*. While I'm eager to see his creativity translate in a restaurant setting, I'm not alone in expressing a twitch of sadness that the supper club will soon be no more. I'm not sure what that means for the fate of the cajeta de coco, which has been on the menu since day one. But I'm grateful to the Meloys for sharing their recipe and allowing us to experience a taste of PushStart Kitchen at home.
* Update: The Meloys opened their restaurant, Better Half, in December 2013.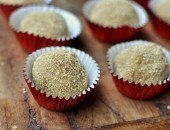 CAJETAS DE COCO (COCONUT TRUFFLES)
Cristina will tell you these are "embarrassingly easy to make." However, I must confess to screwing up the first batch I attempted. I didn't let the mixture cook long enough, so the truffles were extremely sticky and didn't hold their shape. They were more like globs — delicious globs that we devoured anyway. When I made subsequent batches, I made sure the mixture thickened to a near-oatmeal consistency during the cooking process and turned caramel in color. I've since had no problems and agree with Cristina — these are a cinch to make.
If you're not a fan of shredded coconut — I know the texture is a turn-off to some — I recommend processing the coconut in a food processor before adding to the truffle mixture. Although these are called "coconut truffles," I've heard coconut lovers and non-lovers alike sing their praise. The coconut flavor is quite understated.
Ingredients:
2 sticks (1 cup) of unsalted butter
2 14-ounce cans sweetened condensed milk
1 cup shredded coconut (sweetened or unsweetened)
1 cup ground graham crackers, vanilla wafers or galleta maria cookies
Pinch of salt
Garnish options: coconut, honey cactus powder, ground cookies, sprinkles, etc.
Directions:
In a small pot, melt the butter on low heat. Stir in the sweetened condensed milk, coconut, salt and ground cookies. Slowly bring to a boil over medium heat, stirring constantly. Simmer for approximately 6-8 minutes, stirring constantly (especially the bottom of the pan), until the mixture has thickened (almost to the consistency of oatmeal) and has deepened in caramel color.  Remove from heat and transfer mixture to the refrigerator for several hours or until completely chilled. Scoop into desired-size balls and roll in the garnish of your choice: ground cookies, coconut, sprinkles, etc. If using sugar sprinkles, I recommend dipping just the top of the truffle in the sprinkles for some sparkle and color -- rolling the entire truffle in the sugar makes it very sweet. You can store the truffles in an air-tight container at room temperature for a couple days or in the refrigerator for 1-2 weeks.
A few notes:
* If the oil begins to separate toward the end of the cooking process (after it has thickened), immediately remove the mixture from the heat. Stir a few times, place in the fridge, and when you remove the mixture after it has cooled several hours later, you will find that the oil/butter easily blends right back into the mixture with a few stirs.
** If you're doubling the recipe, it will increase your cooking time to approximately 10-12 minutes. Just keep stirring until the mixture thickens and turns a deeper caramel color.
*** If, after the mixture has cooled, the balls don't keep their shape, I've had success returning the mixture to a pot and reheating until it further thickens. You will again need to completely cool the mixture in the fridge before rolling into balls.
You must be logged in to post a comment.