Wild Mushroom Naan
In the weeks leading up to our vacation, several friends questioned why we weren't visiting a more renowned spot on the culinary map. Our trip to England, I explained, was about more than food. It was a return to my roots. It was also my first non-working week of vacation in years so… fish and chips? Fine with me. 
I was confident, however, we would enjoy plenty of interesting and inspiring food during our trip, and I was right. From duck burgers in Camden Market to confit leg of pigeon at The Ledbury to a homemade raspberry-meringue dessert we enjoyed with friends, London did not disappoint on any front.
We had a great experience at Rasoi, an Indian restaurant quaintly situated at the end of a winding, residential street in Chelsea and owned by Michelin Star Chef Vineet Bhatia. I'd like to pretend I discovered Rasoi after hours of meticulously researching high-end cuisine, but the truth is I read in People Magazine that Adele had recently dined there with her boyfriend.   SOLD!
There were, I regret to inform, no celebrity sightings, but there was a pilgrimage to Abbey Road.

We also made a few pub stops.
We stumbled upon a rainbow of macarons, cupcakes and giant, pastel-streaked meringues at a pastry shop near the Thames River.
We browsed the impressive Borough Market, with its endless maze of vendors selling food so beautiful I was ThisClose to emptying my suitcase to make room for cheese wheels, fruit jams, pork pies and sausages. Customs would have loved me.
We also ate barely survived the spiciest Thai meal of our lives (and we aren't afraid of spicy), a pad kee mao so blindingly hot with fresh, marinated peppercorns and spicy chilies that Jason said he needed a doula to help him breathe his way through it.
I've since wondered if that spicy meal – our last one before leaving London – was  responsible for Jason's unusual behavior on the flight home. Two hours after takeoff, he fell asleep and began dreaming he was engaged in a mooing contest, an epic battle with his Uncle Loren, a towering 6-foot-7 former dairy farmer who now owns a bakery. After challenging Jason to a duel, Uncle Loren stepped out of his bakery into a valley, stretched his arms to the sky and bellowed, "MOOOOOOOO," his deep voice filling the air and rising up like a sound cloud to the top of the hill where Jason was standing.

(Cartoon reenactment by Jason)
Not to be outdone, Jason, sleeping soundly beside me, wound his head around and let out a loud, rolling MOOOOOOOOOOO. Startled, he woke up, turned to me and with eyes wide as saucers asked, "Did I just MOO?"

Uncle Loren, if you're reading this, I'm sorry, but Jason won the mooing contest. If you don't believe me, you can ask any of the passengers seated around us.
I giggled the rest of the flight and didn't stop until we walked in our front door. Then I opened our fridge and saw this.
Nothing creates lasting memories like traveling with the one you love.
One memory I hope will linger forever is our dining experience at Rasoi. Course after fantastic course, we devoured every plate set in front of us, including a trio of naan served alongside our entrées. All of the varieties were tasty, but the wild mushroom naan was the standout.
Since returning home, I've been a woman on a mission to recreate it. I initially thought it would be a cinch after finding Rasoi's exact recipe online, but the recipe produced a dense bread with a texture nowhere close to the Indian flatbread –  "non-naan," as we called it.
I played around with a handful of recipes and after nearly a dozen batches, I finally achieved what we experienced at Rasoi: a soft, bubbly bread studded with pan-seared wild mushrooms and finished with a drizzle of truffle oil.
In my version, I slather on roasted garlic butter while the bread is still hot. I suggest you do the same. All parts work together – the earthy mushrooms playing off the pillowy dough playing off the garlicky black truffle glaze – to produce a unique and wickedly delicious bread.
For the record, truffle oil is not an ingredient I casually throw on just anything. I recommend it only when it seriously elevates the food. This? This.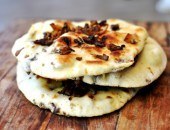 Yield: Seven 4 1/2-inch naan
WILD MUSHROOM NAAN
I prefer the naan cooked over an open flame on the stove top vs. on the grill. I think the stove method produces a bubblier, fluffier bread. However, if you don't have a gas stove you can cook these on the grill — instead of brushing with water, brush the bread on each side with butter before grilling.
Ingredients:
12 ounces wild mushrooms, stems removed and diced
2-3 tablespoons butter
1 1/4 teaspoons active dry yeast
1/2 cup warm water
1/8 cup white sugar
1 1/2 tablespoons milk
1/2 egg, slightly beaten (approximately 1/8 cup)
1 teaspoon salt
2 1/4 cup bread flour
1/4 cup roasted garlic butter*
Black truffle oil for brushing
Sea salt
* If you must, you can substitute plain butter for the garlic butter
Directions:
COOK THE MUSHROOMS: In a large skillet, melt a tablespoon of butter on medium heat until bubbly. Add enough mushrooms to cover the bottom of the skillet in one layer. Don't overcrowd the mushrooms. Cook for 3 minutes undisturbed. Stir mushrooms around and spread back out in an even layer. Cook for an additional 3 minutes or until evenly browned, turning up the heat if necessary. Remove cooked mushrooms and set aside. Repeat with remaining mushrooms, adding butter as necessary, until all of the mushrooms are cooked. Season with salt and set aside, reserving 1/3 cup of the mushrooms for garnish.
PREPARE THE DOUGH: In a small bowl, combine the yeast and water and set aside for 10 minutes until the mixture is frothy and starts to bubble. Add the yeast mixture to the bowl of an electric mixer with the dough hook attached. Add the flour, sugar, salt, milk and egg to the yeast mixture and mix on low for a minute or until combined, using a spatula if necessary to push the dry ingredients from the sides into the middle of the bowl. Increase speed to medium (a "5" on a standard Kitchenaid mixer) and mix for 4 minutes. At the 3-minute mark if some of the dough is still sticking to the bottom of the bowl, add 1-2 teaspoons of water until it comes together.
Remove the mixing bowl from the stand and, with your hands, knead in all of the mushrooms except for the 1/3 cup reserved for garnish.
(Alternatively, if you don't have an electric mixer, after the yeast/water mixture has set for 10 minutes, you can combine it with the flour, sugar, salt, milk and egg together in a large bowl. Knead the mixture by hand until it comes together then transfer to a floured surface. Knead for 7 minutes. Then add the mushrooms small handful by small handful, kneading until they're fully incorporated.)
Place the mushroom dough in a lightly oiled bowl, drape a damp towel over the bowl and let rise for an hour or until doubled. Separate the dough into 7 balls of equal size. Set the dough balls on a lightly oiled baking pan, cover with a damp towel and let rise for 30 minutes.
Roll each ball out on a floured surface into a circle of 1/4-inch thickness, flipping the dough over periodically to keep it from sticking. Set each circle on a plate until all balls are rolled out. If the dough is lightly floured, the circles shouldn't stick to each other but if you're concerned you can separate them with parchment paper.
COOK THE NAAN: Place a large skillet on a gas stove top over medium heat. Let the pan heat up for 1 minute. Brush a dough circle with water and carefully place on the skillet.
Cook for 1 minute. At this point, the dough should start to bubble slightly on the surface.
Turn the skillet over and cook the naan approximately 3-4 inches above the gas flame for 1 minute or until bubbly and browned in spots, moving the pan around slowly for even cooking.
If the naan comes "unglued" from the skillet and falls onto the burner, just move it around frequently with a spatula until browned, being careful not to let it sit too long in one place or it will burn.
Remove naan from skillet with a spatula. Brush generously with roasted garlic butter. Sprinkle with sea salt and add a scattering of mushrooms for garnish. Drizzle with black truffle oil. Repeat with remaining dough.
Naan is best served warm, so enjoy immediately.
Leave a Comment
You must be logged in to post a comment.