Uova al Pomodoro (Eggs Poached in Tomato Sauce)
Working from home, I'm always on the hunt for a fast midday meal that doesn't involve reconstituted leftovers or a slapped-together turkey sandwich. Our microwave burned up four years ago and we never replaced it, so my definition of "fast " may be different than others. I don't like spending more than five minutes of active prep time for lunch because my daughter takes a late morning nap and that is precious work time. I am perfectly OK, though, with the meal taking 30 minutes or longer to cook. I just can't afford to be elbows deep in flour or standing over a pot for hours on end. Evenings are another story and when I welcome that kind of time comittment.
Socca (chickpea pancake) is one of my favorite weekday meals because it meets my lunchtime criteria: 1-2 minutes of prep work plus 15 minutes in the oven. Done. Easy.
In a recent interview, acclaimed food writer and photographer Emiko Davies, whose food blog is endlessly inspiring, was asked to reveal one of her favorite quick meals. She answered "uova al pomodoro," describing it as a "rustic, one-pot meal of eggs poached in a quick tomato sauce." I read somewhere that Italians don't usually eat eggs for breakfast and uova al pomodoro is often served as a second lunch course.
I wish I'd known about this little Italian number during the summer months when my garden was ripe with tomatoes. However, with December upon us a can of quality tomatoes stands in fine for now.
The variations here are endless — mix up the herbs, toss in some mozzarella or grated parmesan. Don't forget the bread for mopping up the sauce and yolks. Keep it simple or be adventurous. Below you'll find the basic blueprint for what is currently my favorite "fast" lunchtime meal.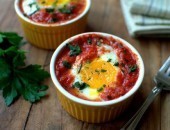 Yield: Serves two to four
UOVA AL POMODORO (EGGS POACHED IN TOMATO SAUCE)
Although this recipe gives instructions on how to make a basic, garlic-infused sauce from scratch, feel free to substitute your favorite recipe for tomato sauce for the first step (or use two cups of prepared tomato sauce in a pinch). Just proceed with the egg-poaching step as instructed.
As I mentioned already, some mozzarella thrown in at the end and cooked until golden and bubbly would be a nice addition. Freshly grated parmesan would also be a welcome finish.
Ingredients:
One 28-ounce can whole tomatoes, preferably San Marzano
2 medium garlic cloves, halved and crushed with the flat blade of a knife
1 tablespoon olive oil
2 tablespoons chopped herbs: basil, chives, parsley, etc.
4 eggs
Salt and pepper
Optional: A few pinches of red pepper flakes
Directions:
In a deep skillet, heat the oil on medium heat. Add the garlic and sauté until garlic is brown on each side. Remove the garlic. For a chunkier sauce, add the tomatoes entirely drained of the juices and purée from the can. For a saucier consistency, add the tomatoes with some or all of the purée. Cook the tomatoes on medium heat for three minutes. With the back of a fork, break up the tomatoes a bit. Reduce heat to low and add pepper flakes, if using. Add 1 tablespoon of the herbs and simmer for approximately 30 minutes or until sauce has thickened to your liking. Taste. Season with salt and pepper.
Create shallow wells in the sauce and crack the eggs into them. Immediately cover with a lid. With the heat on low, poach the eggs for 5-8 minutes until cooked through to your liking*. Alternatively, after adding the eggs, you could transfer the skillet (if it's heat-safe) to a 375-degree-Farenheit oven for this step: cook uncovered for approximately 8 minutes.
Season eggs with salt and pepper and sprinkle the remaining herbs on top. Transfer to plates, individual bowls or ramekins. Serve with crusty pieces of bread for mopping up the sauce and yolks.
* NOTE: When your eggs are done poaching, they may have a thin white veil covering the yolks. In the pictures above, I have pierced the yolks to reveal their lovely, runny centers.
Leave a Comment
You must be logged in to post a comment.