The Donny Draper
The "Donny Draper," a terrific riff on an Old Fashioned cocktail, has caused quite a stir here in Birmingham, Alabama. Credit for the libation goes to inventive bartender William Hamrick at Hot and Hot Fish Club. (It's been a milestone year for Hot and Hot and its owner, Chef Chris Hastings. Hastings won the 2012 James Beard Award for best chef in the south and defeated celebrity chef Bobby Flay on the Food Network's "Iron Chef America.")
Like the Donny Draper's namesake — the handsome, brooding Don Draper on AMC's hit show "Mad Men" — the drink is sophisticated and delicious, mysterious even.
Rye whiskey + sassafras syrup + bitters + lemon peel = one superb cocktail.
After our first experience drinking Donny Drapers at Hot and Hot, I vowed to figure out the recipe so we could enjoy them on our front porch throughout the summer.
AMC
To crack the Donny Draper code, I first researched sassafras, a medium-sized shrub tree commonly found growing in the eastern and southern United States. Because I wanted the drink to be accessible and replicable for all, my initial plan was to provide two ways to make the cocktail: Version 1 with sassafras syrup and Version 2 with a root beer reduction. The root beer reduction seemed like a worthy experiment because sassafras root (etymologically speaking, the "root" in root beer) was the primary flavoring ingredient in root beer before it got a bad rap and was banned from root beer production.
I was pulling for the root beer reduction, hoping I could skirt the trouble of foraging for sassafras root myself. Proof of my attempt as well as proof that my friend Rebecca, a horticulturist, is somewhere rolling her eyes instead of texting me back:
(Crickets)

With no leads on fresh sassafras, I set out to find dried sassafras root, which I easily tracked down at The Golden Temple, a local health food store in Birmingham. I've since learned many health food stores carry it in their bulk dried herbs/food section.
Both the root beer reduction and sassafras syrup were a cinch to make. However, the sassafras syrup reigned supreme with its richness, earthiness, complexity and layers of flavor: anise, licorice and the sweet and spicy notes you expect in root beer.

A side-by-side comparison of the syrups was telling.
Using the root beer reduction in the cocktail was sort of like trying to pass off Pete Campbell…
Michael Yarish/AMC
…as Don Draper.
Frank Ockenfels, AMC
I rest my case.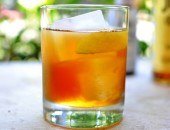 THE DONNY DRAPER
My interpretation of Hot & Hot's Donny Draper is a tad stronger than the restaurant's, which is the direction I'd choose to err in this kind of operation. After the ice cubes have melted a little, the drink mellows into a nice replication.
If you can't find dried sassafras root at your local health food store, you can order it online.
Lastly, the sassafras syrup recipe yields enough for several nights of Donny Draper sippin' with friends, so if you're not anticipating that much fun entertaining in the coming weeks, I suggest halving the syrup recipe.
Ingredients:
For The Sassafras Syrup:
¼ cup dried sassafras root (or ½ cup fresh sassafras root, finely chopped)
2 cups sugar
3 cups water
For The Donny Draper
1 tablespoon sassafras syrup
2 ounces rye whiskey*
1-2 dashes bitters
1 lemon peel, approximately 1-inch long, 1/3-inch wide
1 large ice cube or several medium ice cubes
*Hot and Hot uses Bulleit rye whiskey, which is excellent, but we had nice results with Jim Beam rye whiskey one night when Bulleit wasn't on hand. Another time, we swapped bourbon for the rye whiskey but decided we missed the fruitiness of the rye.
Directions:
Make The Syrup: In a saucepan, combine the sugar and water, stir, and bring to boil. Reduce the heat to a simmer, add the sassafras and cook for 30 minutes. Strain the syrup through a fine-mesh sieve into a heat-proof bowl. Discard the sassafras. Return the strained syrup to the saucepan, bring to a boil and simmer for 30 more minutes until slightly reduced. Set the syrup aside to cool. It can be stored in the refrigerator for several weeks.
Make The Donny Draper: In a rocks glass, stir the syrup, whiskey and bitters together. Add the ice cube(s). Taste. If it's too sweet, add a few more splashes of bourbon. If it's too strong, give it a minute for the ice to melt or add another ice cube. Some of my friends prefer it with a splash of water. Garnish with lemon peel.
3 Responses to "The Donny Draper"
Leave a Comment
You must be logged in to post a comment.