The 1956 Burger
I wasn't searching for a 50-year-old recipe for, of all things, a hamburger. It sort of leaped off the page, like my grandmother's handwriting in the margins of a treasured book. The burger recipe, a James Beard gem, was published in House & Garden magazine in July 1956. During that year, Elvis Presley performed on the Ed Sullivan Show, the Yankees won the World Series, and Jif peanut butter was introduced to the home kitchen. Sledge hammers were fashionable cocktails at evening soirées, and backyard cookouts were all the rage in suburban America.
Since making Beard's recipe, I've wondered how many burgers flipped on smoky grills during the summer of 1956 were inspired by a page torn out of House & Garden. I wish my Grandmother Robinson were still alive, so I could ask her if she had tried them.
       (Circa 1956: my grandmother, Katie, back left)
I also wonder what happened to this and other good-and-decent hamburger recipes between 1956 and the 1980s when, as a kid, the only burgers I remember eating were squeezed and molded to death before shrinking into burned hockey pucks on the grill.
Retro burgers were not what I had in mind when we decided to grill out last weekend, and I was skeptical of a half-century-old recipe that called for one ingredient: ground beef. It was, in so many ways, a far cry from the trendy burgers you see in magazines today, with their exotic fillings and elaborate garnishes. Even its title, Plain Hamburgers, sounded sad and homely. But like many recipes that have stood the test of time, its technique set it apart. Beard instructs you to "form the patties gently, with a light touch" because the less you handle the raw patties, the juicier the cooked burgers will be.
Who knew?
These were some of the best home burgers we've ever made: crispy on the outside, juicy in the middle and nicely charred from a few turns on a hot grill. My only regret is discovering this recipe at the end of August. Thankfully, we live in Alabama, where it's still sticky-hot and we can fire up the grill and pretend it's summer for at least another six weeks.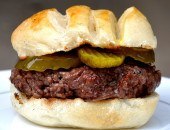 THE 1956 BURGER
If you're interested in pairing an era-appropriate cocktail with your burger, try one of these yummy throw-backs.
Ingredients:
2 lbs lean ground beef
Butter for brushing
Sea salt
Directions:
Gently form the patties (using approximately 1/4 pound of beef for each one), being careful not to over-handle the meat. The less you touch the raw meat, the juicier the cooked hamburgers will be.
Brush the burgers with melted butter, sprinkle with sea salt, and sear them well on both sides, turning until they are cooked to your liking. Don't be alarmed if the burgers look fragile when you place them on the grill; they will firm up after a few minutes of cooking. Also, don't be surprised if your burgers look a bit rugged when cooked. They won't win any beauty pageants, but they will certainly please a crowd.
Beard recommends serving the burgers with mustard on toasted buns or hot toasted French bread with a choice of quality relishes and pickles.
3 Responses to "The 1956 Burger"
You must be logged in to post a comment.