Soy-Ginger Glazed Salmon
I stole this soy-ginger glaze from a meatball recipe. Sorry, meatballs.
A few years ago, I made some glazed turkey meatballs for a New Year's Eve get-together, and they didn't stick around very long. One friend who rarely eats meat went bonkers over them. I'm telling you, it's the glaze — what else could elevate a humble meatball to such heights?
But in my world this glaze belongs to salmon.
(Check out the salmon my mother reeled in from the Pacific — while rocking red lipstick, no less. I bet that guy was surprised to see her on the other end of the line.)
I find many glazes applied prior to cooking have a tendency to burn, turn bitter or lose their oomph. In this recipe, the glaze is ladled onto the salmon after it's cooked, giving you more control of the finishing flavor and appearance.
Cooked on high heat in a lightly oiled skillet, the salmon gets brown and crispy on each side. It's a nearly fool-proof method for cooking fish.
The glaze can be made ahead of time, and the salmon takes little time to cook. Garnished with toasted sesame seeds and green onions, it's a dish of elegant taste and presentation that requires remarkably little work.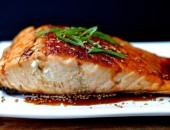 SOY-GINGER GLAZED SALMON
Although the cooking instructions below are for two salmon fillets, the glaze makes enough for at least four fillets. Leftover glaze is terrific on baked chicken drumsticks or as a dipping sauce for wontons, dumplings or other appetizers that need a hit of flavor.
Ingredients:
1/2 cup dark brown sugar
1/2 cup water
1/2 cup soy sauce
1/2 cup mirin (sweet rice wine)*, or 1/2 cup sake with 1/4 cup sugar
1 1/2 tablespoons fresh ginger, peeled and coarsely chopped
1 teaspoon ground coriander
4 whole black peppercorns or 1/2 teaspoon ground black pepper
2 6-oz salmon fillets
2 teaspoons oil (I use grapeseed oil)
2 tablespoons green onions, green parts only, diced thinly
1 tablespoon toasted sesame seeds
* You can find mirin in the Asian/International aisle of most grocery stores.
Directions:
In a saucepan, bring the brown sugar and water to a simmer. Add the soy sauce, mirin, ginger, coriander and black pepper. Bring to a boil, then reduce heat to a simmer. Simmer for 30-40 minutes until glaze has reduced by a third to a half and lightly coats the back of a spoon. Cooking time varies because a low simmer means different things to different stove tops (and cooks). The glaze will continue to thicken as it cools, so keep this in mind. Strain glaze through a sieve into a heat-proof bowl. It can be stored in the fridge for up to a week.
Dry the salmon fillets with paper towels and set aside. (I don't even bother seasoning them with salt and pepper because the glaze adds so much flavor.) Heat a heavy-bottomed skillet (I use cast-iron) on high for four minutes. (If you have an overhead oven fan/hood, you'll want to run it, as the kitchen tends to get a little smoky.) Add enough oil to lightly coat the bottom of the skillet. Add the fish, skin side up — carefully, as the oil may splatter. Cook for six minutes undisturbed on high heat. With a spatula, turn the fish over and, if the pan looks dry, add a little more oil. Turn the heat down to medium-high and cook for an additional 3-4 minutes, give or take a minute depending on the thickness of your salmon fillet.
Remove the salmon from the pan and generously ladle the glaze on top of the fillet (if you want to keep the crispy top of the salmon in-tact, ladle glaze around the fillet). Garnish with green onions and sesame seeds.
6 Responses to "Soy-Ginger Glazed Salmon"
Trackbacks/Pingbacks

Leave a Comment
You must be logged in to post a comment.