Salted Caramel Chocolate Tarts
These tarts taste like your favorite candy bar, stepped up. With a salted caramel filling resting beneath a thick layer of bittersweet chocolate ganache, I knew they'd be right up my dad's alley. He loves chocolate and will choose it for dessert over everything else. He invented one of my favorite childhood snacks: chocolate syrup swirled with peanut butter on hot, toasted bread. I remember him bringing home chocolate-flavored coffee and unusual chocolate-covered fruits. My brothers and I still tease him about the "Give Me Chocolate Or Give Me Death" bumper sticker he plastered on the back of his car, which seemed like a good idea until one afternoon when he found himself leading a funeral procession.
Next to chocolate, my dad's other obsession is Scrabble, and we have played together since I was 8 years old. Growing up, I was the designated scorekeeper, but he'd be sure to check my math if I won. The winner was required to clean up the board, and it was an unspoken rule, given that my dad was a Baptist minister and all, that a curse word wasn't played unless you could get a triple-word score out of it.

Dad and I made plans to play Scrabble last Saturday, but we were both feeling lazy after dinner. I blame our satiated delirium on the thick and juicy hamburgers we scarfed down, followed by these rich, ooey-gooey tarts for dessert. I've been on a tartlet kick lately, but you can easily roll this dough out to make one large tart.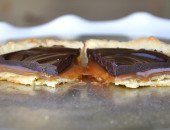 SALTED CARAMEL CHOCOLATE TARTS
This recipe makes eight 3-inch tarts or one 8- or 9-inch tart. If you're making one large tart, a tart pan with a removable bottom works best.
Ingredients:
For The Caramel:
1 cup sugar
1/4 cup water
2 tablespoons light corn syrup
3/4 cup heavy cream
3 tablespoons unsalted butter
3/4 teaspoons sea salt (table salt is harsher, so start with less if that's all you have)
For The Chocolate Ganache:
8 ounces (1 1/2 cups) semisweet or bittersweet chocolate chips (or chocolate bars cut into small pieces)
3/4 cup heavy whipping cream
2 tablespoons unsalted butter
1 tablespoon cognac, brandy or chocolate liqueur (optional)
For The Pastry:
1 1/2 cups all-purpose flour
¼ tsp salt
8 tablespoons unsalted butter, room temperature
¼ cup sugar
1 large egg
Directions:
Make the Pastries: In a small bowl, whisk the flour and salt together. Place the room-temperature butter in the bowl of an electric mixer, add the sugar, and beat until light and fluffy. Lightly beat the egg and add slowly to the butter-sugar mixture, mixing just until incorporated. Add the flour and mix with a spoon just until it forms a ball. Don't overwork the dough or your crust will turn out tough. Flatten the dough into a disk, cover with plastic wrap and refrigerate for 45 minutes or until firm. Meanwhile, butter your tartlet pans or tart pan.
Remove dough from fridge and separate into 8 separate pieces (Please see note below if making one tart). If your dough is too hard, let it sit at room temperature for a few minutes. At this point, my dough was too sticky, so I covered the 8 pieces in plastic wrap and stuck them in the freezer for five minutes.
When the dough feels firm, roll out each piece of pastry on a lightly floured surface to fit the tart pans. Rotate the dough a quarter turn as you roll to help prevent sticking. (Rolling your dough between lightly floured sheets of parchment or wax paper will also help to prevent sticking.) Keep the remaining pieces of dough in the fridge while you roll out each pastry.
Carefully lay the rolled-out dough in the tart pan, pressing lightly along the bottom and up the sides and being careful not to pull on the pastry, which can cause it to shrink. Remove excess dough, saving to patch any holes that appear as you fit the dough into the pan.  Cover and freeze the tarts for 30 minutes.
Preheat oven to 375 degrees. When the oven is ready, remove the 8 unbaked tart shells and prick the bottom of the tarts with a fork. Place the tarts on a baking sheet in the center rack. Bake for 10 - 15 minutes or until the crust is dry and light golden brown. If the bottoms of the pastry shells puff up during baking, lightly press the pastries back down. Remove from oven and cool.
Note: To make one 8- or 9-inch tart, follow the instructions above but increase the baking time to 20-25 minutes.
Make The Caramel: In a medium saucepan, combine the sugar, water and corn syrup and bring to a boil. Boil over high heat until the caramel looks a medium-amber color, 5-10 minutes, and immediately remove from heat. Carefully whisk in the cream – the mixture will bubble up. Once it has settled, stir in the butter. Wait 10 minutes until the caramel has cooled slightly and add the salt. Stir and taste – if you like your caramel saltier add ¼ to ½ teaspoon more salt.  Set aside.
Begin Assembling The Tarts: Loosen the tart(s) from the pan(s) and set on a baking sheet. Pour the room temperature caramel evenly into the tart pans (or tart pan), leaving room at the top for a layer of ganache. Place tart(s) in the refrigerator for at least 30 minutes.
Make The Ganache: Meanwhile, heat the cream and butter in a small saucepan over medium heat. Place the chocolate chips or chopped chocolate in a medium-sized heatproof bowl. Set aside. Bring the cream mixture just to a boil, then immediately pour over the chocolate and allow to stand without stirring, with a plate on top of the bowl, for five minutes. Then stir gently, as you do not want to incorporate air into the ganache, with a spoon or whisk until smooth. If desired, add the liqueur.
Finish Assembling The Tarts: Once the caramel feels slightly firm on top, spoon 2-3 tablespoons of ganache on top of the caramel in the center of each tart and spread evenly to the edges. (If making one large tart, start with 1/2 cup ganache and add more as needed.) Place the tarts in the fridge for at least 15 minutes to set the ganache. The tarts can be stored in the fridge for several days, covered. Let them sit out at room temperature for approximately 15 minutes prior to serving.
Leave a Comment
You must be logged in to post a comment.