Mushroom Salad With Pistachio Puree And Radishes Two Ways
This is not your average salad. And not just because it looks like some kind of whimsical Alice in Wonderland creation with its half-moons (baby bellas), pretty green dots and petals (pistachios and microgreens) and pink shoots (pickled radishes).
I've featured only two salads on this blog in its 15 months of existence, as I figure the traditional formula is out there a thousand times over: greens + cheese + nut, maybe + fruit, maybe + dressing. I'm not knocking salad recipes — I scour the internet for good ones all the time — just saying I probably won't add to the discussion very often.
Today I'm breaking that rule. Because a salad with mushrooms, pistachios (two ways) and radishes (two ways) on one plate? Worth discussing.
This salad comes from Chef David Chang of Momofuku fame. The first time I made it, I bought all the ingredients before doing any internet research. This was inadvertently a good move because had I read the reviews, I may not have made it. "Fell flat" seems to be the expression of choice. Some admitted to taking a few flopped liberties with the recipe, while others complained the pistachio purée's consistency was too watery. I've never had an issue with the purée, but I use more braised pistachios than the recipe calls for, so maybe that's the trick.
After making this salad a half dozen times, my final review is that it works — all parts play off of each other beautifully. I've never made or eaten anything like it.
In the past, I've prepared the salad exactly as Chang instructs, but have since made a few tweaks that allow you achieve the same flavor and presentation with less time and without spending as much money.
My first time making salad, I tracked down the konbu (at an offensive price at Whole Foods) for Chang's bacon dashi, which is a seaweed-bacon infused broth. I had a hunch going to the trouble of making the dashi wasn't necessary, though, as it's used to braise the pistachios, nothing else. It's not even used to make the pistachio puree; water is. The dashi is worth making if you're planning on using it in other Momofuku dishes, but for this recipe, you want a stock that's going to infuse some flavor — I think chicken stock (or even vegetable stock) does the job.
The pickled radishes are my addition. Chang calls for pickled sunchokes (also called Jerusalem artichokes), which I've made and enjoyed – they have a pleasant crunch — but they were pricey and hard to find. So now I pickle radishes instead since they're already in the recipe, raw, sliced thinly and cut in halves. I have a thing for a dish that incorporates one ingredient two ways. Plus, the pickled radishes add a pop of color to the plate. (The pickling, by the way, takes maybe 2-3 minutes of prep work and can be done the night before, so don't let that scare you off.)
The rest of the dish is brilliance, particularly the pistachio purée, which brings everything together, and the mushrooms, which are seared in a hot skillet before further cooking down in butter, garlic and vinegar.
This salad is my current favorite first course. Plated in smaller portions, it would also work as an excellent amuse-bouche if you want to put your fancy pants on. From experience, though, I should warn you: it's a scene-stealer. Several courses later, your dinner guests will still be talking about it.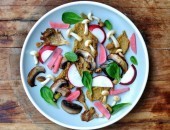 MUSHROOM SALAD WITH PISTACHIO PUREE AND RADISHES TWO WAYS
Chang instructs you to save a third of the braised pistachios for the final salad presentation. However, I like the crunch of the roasted pistachios as a contrast to the mushrooms.
Also, don't let the pickling step prevent you from making this salad. If you are scared of pickling like I once was: 1) Don't be, it's easy OR, 2) make the salad without them, the world won't end and there are still plenty of tasty things going on here.
Ingredients:
For the Pickled Radishes:
¾ cup water, hot from the tap
1/3 cup rice wine vinegar
4 ½ tablespoons sugar
1 ½ teaspoons salt
6 radishes, sliced in ¼-inch sections and cut into strips
For the Salad:
2 radishes, trimmed, halved and sliced into thin wedges
1/2 tablespoon sugar
Salt
3 cups chicken or vegetable stock
¼ cup mirin
1 1/3 cups shelled roasted pistachios
½ cup water
Grapeseed or other neutral oil
8 ounces oyster mushrooms, trimmed – cut them into strips or leave them large
3 ½-ounce package enoki mushrooms
8 ounces baby bella mushrooms (or a wild mushroom variety of your choosing)
Pepper
2 garlic cloves, smashed
2 tablespoons unsalted butter
2 tablespoons sherry vinegar
1/2 cup pickled radishes (see recipe)
Handful of microgreens*
* Note on the microgreens: Chang suggests mizuna. I used mache rosettes in the pictures you see above. You want a small, tasty green — I think even a few chives (left long, approximately three inches) would work well here.
Directions:
Pickle The Radishes:
Combine the water, vinegar, sugar and salt in a mixing bowl and whisk until the sugar dissolves. Pour the brine over the radishes, cover and refrigerate. Pickles usually get better with time, but I liked the radishes on days 1-3… by day 7, they were unpleasantly strong. My recommendation is to make these the day before you serve the salad.
Make The Salad:
Toss the fresh radish halves with the sugar and a half teaspoon of salt and set aside.
In a medium saucepan, bring the stock and mirin to a boil. Add one cup of the pistachios and reduce the stock to a simmer. Cook for approximately one hour until the pistachios are tender. Drain the pistachios, discard the stock and transfer the pistachios to a food processor. Add ½ cup water and process until smooth. Taste. Season with salt if need be. The purée can be stored in the refrigerator until ready to use. Just bring back to room temperature before serving.
Add a tablespoon of oil to a large skillet on medium-high heat. (I sometimes have two skillets going for this step.) Add a batch of mushrooms to the skillet, making sure there's enough room between them to brown. Don't overcrowd. Cook for 2-3 minutes, turn them over and cook for an additional 2-3 minutes. Season the mushrooms with salt and pepper and remove from heat. Repeat with the remaining mushrooms.
When all the mushrooms are cooked, return them to the skillet on medium heat. Add the garlic and butter. When the butter has melted, add the vinegar and cook on high, stirring the mushrooms occasionally until the liquid has mostly boiled away. Remove from heat and discard the garlic.
To plate the salad, spread 2-3 tablespoons of the purée on a plate. Scatter the mushrooms, fresh radishes, pickled radishes and the remaining pistachios on each plate. Finish with a few pinches of microgreens.
Adapted from Momofuku by David Chang and Peter Meehan
Leave a Comment
You must be logged in to post a comment.