Roasted Garlic Butter
Today, I want to share a little secret:
I keep a bowl of roasted garlic butter in my fridge and use it on everything.
Ok, not on everything, but smeared on thick slices of crusty bread? Yes. Slipped under the skin of roasted chicken? Of course. Brushed on skewers of grilled shrimp? Obviously.
My son, who is the pickiest of eaters, requests it on toast but would eat it by the spoonful if I let him. Butter alone is near perfection, but combined with caramelized, melt-in-your-mouth garlic, it can transform an ordinary dish into something more complex. For example, a few tablespoons of garlic butter stirred into freshly-cooked pasta will take it from uninspired weeknight fare to a plate of food you'd swear came out of the kitchen of your favorite Italian restaurant.
And it couldn't be easier to make. Whole heads of garlic are trimmed of their tops — beheaded, if you will — and roasted under a pat of butter in a tight-lidded dish or enclosure of aluminum foil. The butter melts and seeps down into the cloves, encouraging even roasting.
At this point I should warn you: The scent of roasted garlic drifting out of your oven may make you weak in the knees, or at the very least, very hungry.
The cloves are then plucked from their outer skins, mashed lightly with a fork and stirred into softened butter.
Serve the butter with toasted baguette slices or fancy crackers. Use it as a glaze on roasted vegetables or brush it over grilled fish. It will dial up the flavor of anything, so choose your own adventure.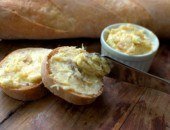 ROASTED GARLIC BUTTER
Do try to use a quality butter with a high fat content here – any of the European style butters will work. The richer the butter, the richer the flavor.
Ingredients:
2 heads of garlic
12 tablespoons (1/4 lb) of butter, softened + 2 tablespoons for roasting
Sea salt
Directions:
Preheat oven to 400 degrees F.
Cut the top off of each head of garlic. This should take care of the protruding cloves in the middle, but you will need to individually trim the tops off the lower-lying cloves around the perimeter. You want all of the cloves exposed, so the butter can infiltrate each one.
Position a tablespoon of butter over each head of garlic. You may have to break it into pieces or add more to cover all the cloves. Transfer the garlic heads to ramekins with fitted lids or wrap each head tightly, all the way around, in aluminum foil. Bake for 45 minutes or until brown and caramelized on top. I sometimes let mine roast up to an hour.
Let cool for 10 minutes. With a small fork or spoon, slide each clove out of its skin and set aside. In a small bowl, mash the garlic until it's nearly a paste. In another small bowl, lightly whip the softened butter with a fork or whisk until smooth. Add the roasted garlic to the butter and combine well. Add salt to taste.
The butter stores well in the fridge up to a couple weeks, although the flavor may intensify the longer it's stored.
2 Responses to "Roasted Garlic Butter"
Leave a Comment
You must be logged in to post a comment.