Pumpkin Spice Crème Brûlée
Almost every pastry chef and kitchen professional I know has mild to raging contempt for crème brûlée. Restaurants keep it on the menu because it sells well, but behind the scenes, pastry chefs are ready to pass the torch. I nearly spat out my coffee the first time I read chef Jeff McCarthy's post, "Creme Brulee Can Suck It," which begins, "Seriously, ordering a creme brulee is like purchasing a golden retriever. Have some [bleeping] imagination."
Curious, I surveyed a few friends who are professional cooks, and their opinions on the popular dessert varied: 
"Crème brûlée is the ultimate people pleaser, exciting to eat, and enjoyable for everyone, except for the person standing there torching 200 of them." – Cook in Charleston, SC 

"Everyone who loves to make pastry should make crème brûlée at least once," — Cook in Birmingham, AL


"I want to rub it all over my face." – Cook in Chicago, IL

"Have a little imagination and let's bake something exciting that requires me to actually be awake!"  – Cook in Birmingham, AL

"Crème brûlée has its place; however, for a pastry chef it is not exciting to make, it produces no challenges and most of the people who order it are the kind of people who go out to dinner on Valentine's Day (Amateur Night)."  – Cook in Birmingham, AL
Amateur Night!? I'm puzzled why I never heard that industry term when I worked in a restaurant. Maybe it's because I was a lowly hostess. That, or I was too busy working hard flirting with the servers*.
I'm personally not a die-hard crème brûlée fan, but if it's what I'm craving I'm not going to avoid ordering it just because someone in the kitchen might label me a bore. It's not like we're discussing fruit cake here. I think most of us can agree that a nicely-crafted crème brûlée is a sight – and taste – to behold. As a friend recently said, "The appeal of the dish is not necessarily the flavor since it's basically a thick vanilla ice cream base, but the play in textures. You get this CRUNCH and then velvet [underneath]."
Without further ado, here is a recipe for lovers of crème brûlée as well as anyone looking for a seasonal twist on the French classic. The addition of pumpkin, cinnamon and nutmeg makes this a fantastic fall-inspired crème brûlée.
* A strategy that paid off as one of those servers is now my husband of 8 years 9 years.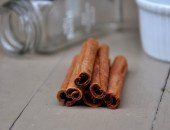 Pumpkin Spice Crème Brûlée
Ingredients:
2 cups heavy cream
1/4 cup light brown sugar
1/4 cup sugar, plus 4 teaspoons
8 large egg yolks
1/2 teaspoon pure vanilla extract
3/4 teaspoon ground cinnamon
1/8 teaspoon grated nutmeg
1 cup mashed cooked pumpkin
Directions:
Preheat oven to 325 degrees Fahrenheit. Arrange 8 ½-cup ramekins in a large baking dish or pan.
In a medium saucepan, combine the cream, brown sugar and ¼ cup granulated sugar. Over medium heat, bring the cream to a bare simmer, stirring until the sugar is dissolved. Remove from heat.
In a medium bowl, whisk the egg yolks until frothy and lemon-colored. Slowly add ¾ cup of the hot cream mixture to the eggs, whisking constantly. Whisk the egg mixture into the remaining hot cream, followed by the vanilla, cinnamon, nutmeg and pumpkin. Whisk or stir until smooth. Strain the mixture through a fine mesh strainer into a bowl.
Divide the mixture among the 8 ramekins, and carefully add hot water to the baking pan until the water reaches halfway up the sides of the cups. Bake until the custards are just set in the center but not stiff, approximately 45-55 minutes. Remove from oven and refrigerate until chilled, at least 3 hours or overnight.
When ready to serve, sprinkle each custard evenly with ½ teaspoon of sugar. Use a kitchen torch to caramelize the sugar. Or, use your oven broiler to broil the sugar until it melts and caramelizes (approximately 1-2 minutes), watching closely to avoid burning and rotating the ramekins as necessary.
Trackbacks/Pingbacks

Leave a Comment
You must be logged in to post a comment.