Pumpkin Cheesecake with Gingersnap Crust and Salted Caramel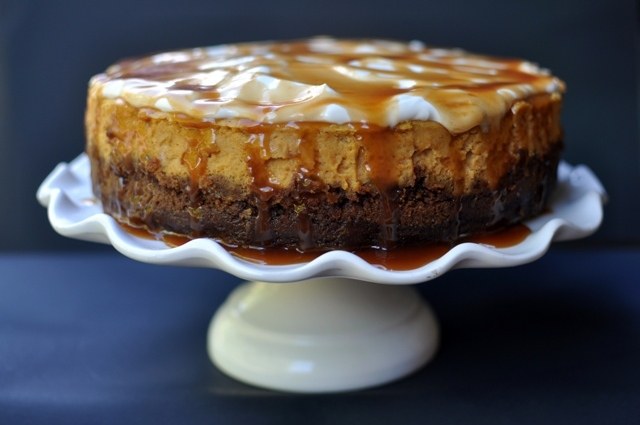 I was tempted to call this cheesecake "Ultimate Pumpkin Cheesecake" or something similarly over the top, but thought better of it. I'm skeptical of recipes with boastful titles. (Except when they're my own, of course.)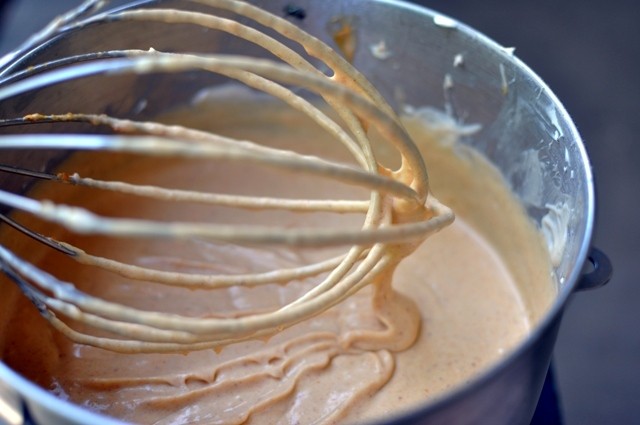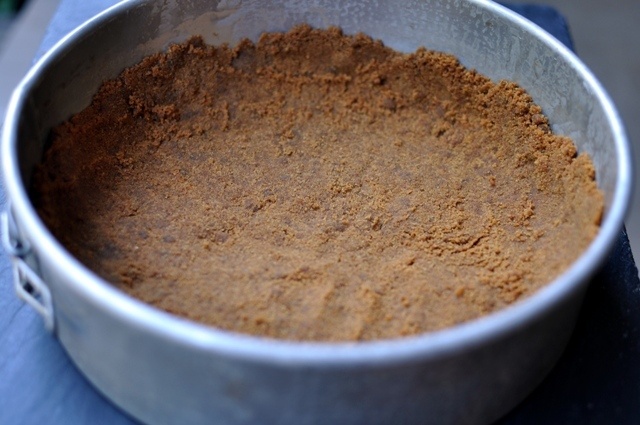 My brothers and I like to tease our dad because whenever we compliment something he's made – a cherry pie, for example – he'll say, "You know how I found the recipe? I did a search for WORLD'S BEST CHERRY PIE."  A few weeks ago someone landed on my site after googling "best fish recipes in the world" and I seriously wondered if it was him. Growing up, Dad loved to contribute recipes to the church cookbook, but I think his enjoyment in developing the recipes was secondary to his love of naming them: "Pastor's Precious Lasagna"… "Sumptuous Stir Fry"… and this gem: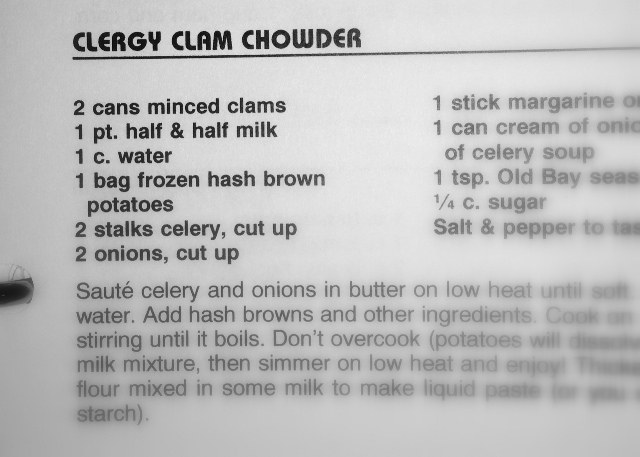 I could argue this cheesecake deserves some kind over-the-top title. It is decadent. A spiced gingerbread crust serves as the base for a cream-cheese-pumpkin filling accented by cinnamon, cloves and ginger.  Over the years, I've been disappointed in pumpkin cheesecakes that tasted more like pumpkin pie than cheesecake. This recipe has just the right pumpkin-to-cream-cheese ratio. The cheesecake is topped with tangy, vanilla sour cream and a salted caramel drizzle. It's one of our holiday standards.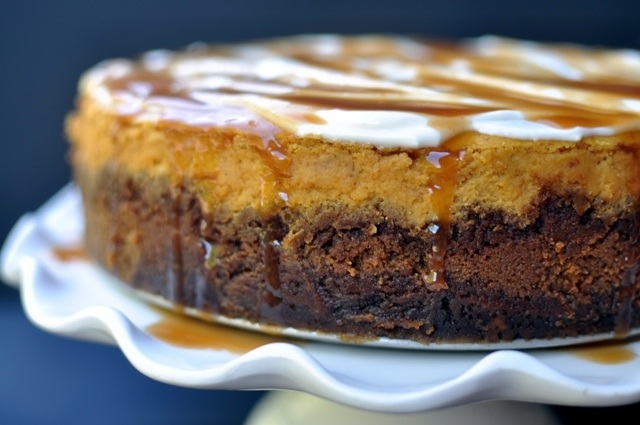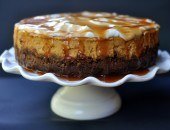 Pumpkin Cheesecake with Salted Caramel and Gingersnap Crust
I've made this cheesecake two ways: baking the sour cream topping (per the recipe below) and spreading it on once the cheesecake has chilled (as seen in the pictures above). I'm a fan of both methods, but the baked method will give you a cleaner cut when you slice the cake.
Ingredients:
For Crust:
3 cups gingersnap cookie crumbs (approximately 15 ounces)
1 1/2 teaspoons ground cinnamon
6 tablespoons unsalted butter, melted

For Cheesecake Filling
4 8-ounce packages cream cheese, room temperature
1 1/2 cups sugar
3 tablespoons all purpose flour
2 teaspoons ground cinnamon
1 teaspoon ground ginger
1/4 teaspoon ground cloves
4 large eggs
1 15-ounce can solid pumpkin puree (not pumpkin pie filling)
2 teaspoons vanilla extract
Optional: 2 tablespoons bourbon
For Sour Cream Topping:
1 1/2 cups sour cream
1 1/2 tablespoons granulated sugar
1 ½ teaspoons vanilla extract
For Salted Caramel:
1 cup sugar
1/4 cup water
2 tablespoons light corn syrup
3/4 cup heavy cream
4 tablespoons unsalted butter
1/2 teaspoon of sea salt (or more to taste)
Directions:
Make the Crust: Preheat oven to 325 degrees F. In a medium bowl, stir together cookie crumbs and cinnamon to blend. Add butter, stirring until crumbs are moistened. Invert the bottom of a 9-inch springform pan so the smooth side of the pan bottom is facing up (will make cake removal easier). Press the crumb mixture evenly onto the bottom and 1 inch up the sides of the pan. Bake until crust is set, approximately 10 minutes. Cool. Double-wrap the outside of the pan with heavy-duty foil and place in a large roasting pan.
Make the Cheesecake: In a large bowl or the bowl of a stand mixer, beat the cream cheese and sugar until smooth. Add the flour and spices, mixing until smooth. Beat in the eggs one at time. Add the pumpkin, bourbon (if using) and vanilla. Pour cream cheese mixture into crust. Pour hot water into the roasting pan until it reaches 1 inch up the sides of the pan, being careful that it's not higher than the foil wrapping (or water will get inside and cause the crust to be soggy). Bake cheesecake in water bath until just set, approximately 1 hour 45 minutes.
Whisk together the sour cream, sugar and vanilla in a bowl.  Spread the sour cream mixture on top of the cheesecake and bake for an additional 5 minutes.
Remove cheesecake from water and set aside to cool, approximately two hours. Remove foil. Run a sharp knife between cake and side of the pan. Chill the cheesecake until cold, then cover and chill overnight. Release pan sides and transfer cheesecake to platter.
(At least an hour before serving the cheesecake) Make the Salted Caramel: In a medium saucepan, combine the sugar, water and corn syrup. Bring to a boil and cook over medium-high heat until a golden brown caramel forms, approximately 6-8 minutes. If you notice the syrup edges turning browner than the center, tilt the saucepan and gently swirl the caramel around. Keep close watch because the caramel can burn quickly. Remove the saucepan from the heat and carefully whisk in the cream, butter and salt. Let the caramel cool to room temperature. When the caramel has cooled, taste. Whisk in more salt if desired (1/4 teaspoon at a time). The caramel can be made up to two weeks in advance and stored, covered, in the refrigerator. Bring to room temperature before using.
Assemble and Serve Cheesecake: Generously drizzle salted caramel on top of cheesecake. Cut the cheesecake into wedges. When serving, drizzle more caramel on the individual plates.
13 Responses to "Pumpkin Cheesecake with Gingersnap Crust and Salted Caramel"
Leave a Comment
You must be logged in to post a comment.