Prosciutto-Wrapped Chicken With Goat Cheese, Chives and Fried Garlic
The inspiration for this recipe comes from Sports Illustrated swimsuit model Chrissy Teigen, who pens the food blog, www.sodelushious.com, where she writes in endearing, bawdy fashion about her favorite recipes, eating habits, her abhorrence of exercise, and the challenges of maintaining her (much envied) figure as a self-proclaimed bacon addict.

(Teigen with fiancé John Legend at a cooking class / www.sodelushious.com)
I interned at Sports Illustrated many, many years ago and was often asked what kind of interaction I had with the swimsuit models. I think people envisioned me bumping into Heidi Klum at the vending machine or sharing an elevator with Tyra Banks. Alas, the halls of Sports Illustrated were not filled with long-legged models. They were mostly filled with middle-aged men – and a few college interns, like me, trying not to trip over their own feet.* 

During my time at the magazine, I had the pleasure of meeting an up-and-coming reporter, Jeff Pearlman, who became a lifelong friend and quickly rose in the SI ranks to senior writer.Jeff, author of the New York Times best-selling biography on Walter Payton, once blogged about his week-long experience at an SI swimsuit shoot during the Molly Sims era. Spoiler alert (and unintentionally related to today's recipe): chicken cutlets were strategically positioned in bikini tops. 
Last year, Teigen blogged at length about eating a primarily low-carb diet in preparation for various swimsuit shoots. This delicious creation appeared in a Shape Magazine article featuring her five favorite low-carb recipes.
The original recipe goes something like this: flatten a chicken breast with a meat tenderizer, spread Boursin cheese on top, add bacon, roll it up, wrap it in prosciutto and bake for approximately an hour.
I love the concept, but after experimenting with the recipe, decided to tweak a few things.
I eliminated the bacon in the middle because it has a soft, rubbery texture after baking. Also, I really wanted to recreate the layers of flavor found in Boursin using fresh ingredients and local cheese. This was accomplished by generously padding the chicken with goat cheese, fresh-from-the-garden chives and fried garlic. I can't imagine how you could improve this filling except by adding MORE garlic.
The cheese, garlic and chives mingle ever so slightly with the chicken juices while baking, imparting some amazing flavor, and the juices are spooned over the chicken. The prosciutto, meanwhile, gets nice and crispy while it hugs the meat, keeping it tender. Olive-oil drenched cherry tomatoes and shallots roast alongside the chicken, serving as a great accompaniment.
I'm a huge fan of this dish. It plates beautifully. It's easily adaptable. And it's relatively simple to prepare but plenty sophisticated.
* Truth be told, I was the only intern pushing up her nerd glasses and stumbling down the halls. During my time at SI, I was surrounded by a talented, ambitious crop of interns/aspiring journalists, who are — no surprise — at the top of their game today.  In no particular order… my former running buddy Aditi Kinkhabwala, sports writer at the Wall Street Journal; Tamer El-Ghobashy, reporter at the Wall Street Journal; and Evan Markfield, Editor at Chapel Hill Magazine.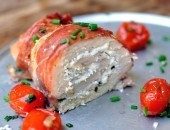 PROSCIUTTO-WRAPPED CHICKEN WITH GOAT CHEESE, CHIVES AND FRIED GARLIC
When it comes to local goat cheese, we are spoiled here in Alabama with artisan offerings from Belle Chevre Creamery (based in Elkmont, AL) and Stone Hollow Creamery (based in Harpersville, AL). You can find a selection of their cheese at several local grocery stores, including Freshfully and V. Richards, or visit their websites to order online.
Note: The chicken can be prepared up to a day ahead of time prior to baking. Keep it covered and refrigerated until you're ready to bake and serve. This recipe yields two hearty portions.
Ingredients:
Grapeseed oil or canola oil
3 cloves garlic, somewhere between finely and coarsely diced
2 boneless chicken breasts, approximately 1/2 lb each
4 oz goat cheese
3 tablespoons fresh chives + 1 tablespoon for garnish
6 slices prosciutto
2 shallots, thinly sliced
1 cup grape or cherry tomatoes
1 1/2 tablespoons olive oil
Salt and pepper
Directions:
Preheat oven to 375 degrees F.
In a small frying pan, add grapeseed or canola oil until it reaches a half-inch up the sides of the pan. Heat the oil on medium for a few minutes. Add the garlic. Cook until brown and transfer with a slotted spoon onto a paper-towel-lined plate. This won't take long, so don't stray too far. Set the fried garlic aside.
Place a chicken breast in a large plastic bag or between two sheets of plastic wrap and pound with a meat tenderizer or back of a ladle until flat, being careful to avoid creating holes. Sprinkle salt and pepper over the chicken. Crumble half of the goat cheese over the chicken breast. Scatter 1 1/2 tablespoons chives and half of the fried garlic on top of the goat cheese. Starting with the smallest side, roll the chicken up. Once the chicken is rolled into a cylinder, rotate it until the seam is at the bottom. Wrap three pieces of prosciutto snugly around the chicken. Repeat with the remaining chicken breast.
In a small bowl, toss the tomatoes and shallots with the olive oil.
Place the chicken breasts in a casserole dish and scatter the tomatoes and shallots around the chicken.
Bake for 55 minutes, pulling the chicken out at the halfway point to spoon the juices over the chicken. When fully cooked, remove the chicken from the oven and ladle more of the juices over the chicken. Garnish with the remaining chives and serve immediately alongside the roasted tomatoes and shallots.
Leave a Comment
You must be logged in to post a comment.