Pretty In Pink Cake
My daughter,  Esmé, turned one year old last week and we celebrated with a ladies-only, champagne-and-cake party. Having thrown our son a rowdy sixth birthday party just five days earlier, I wanted Esmé 's celebration to be a quiet evening affair with close friends and family members. In lieu of gifts, I asked guests to bring words of wisdom for a book I'm putting together for her.

The decorations were simple: pink flowers, white candles and pink paper pompoms. The champagne flowed freely, and a dreamy cake rested on a pedestal in the middle of the room, waiting to be cut.
Adorned with pink strips of buttercream fondant, the cake featured layers of white velvet cake inside with chocolate buttercream frosting.
The concept for the cake belongs to Ashley at Not Without Salt. The moment I saw the gorgeous gradient cake she made for her daughter's first birthday, I knew it was the one. I just hoped I could pull it off. Ashley reassured me I could, but I was a bit wary as I had only worked with fondant once. Giving myself plenty of time to recover if the cake failed, I had everything baked and assembled the day before the party.
I only ran into trouble when I attempted to wrap the fondant strips around the 9-inch cake by myself. Enter my guardian angel, a long-time friend and former pastry chef, Amanda, who miraculously appeared with party supplies right when I was starting to lose patience. Amanda had a million things to do to get ready for her own upcoming party, but she cheerfully stayed until almost midnight helping me decorate the cake. (We sampled the party champagne well into the night, too.)

At one point when I was rolling out a strip of fondant, Amanda said, "If I ever see Esmé giving you attitude when she's a teenager, I am going to sit her down and tell her about the time you stayed up all night making her first birthday cake."
Thank you, Amanda. I am nowhere near ready to envision Esmé's teenage years, as it seems like just yesterday she came into the world, cuddly and new.
Labor began on a dark and stormy night. Forgive the cliché, but it's true. Trees collapsed and blocked the road, hail pummeled our roof, and the power went out while I was laboring at home. Esmé weighed close to nine pounds at birth and screamed so much in the early weeks we wondered if this first gesture of hers was not accidental.
Her first year passed quickly, too quickly. Esmé's party was a joyful celebration of our first 12 months together, sleepless nights and all, and it was a thrill to share it with so many women I love and admire.
We sang to her.
Toasted her.
 
Squeezed her.
And some of us even declared her the Queen Of The Babies. (More like the Queen Of NOT Sleeping Through The Night. Sorry, toots.)

Happy Birthday, Esmé! May you look back on pictures of your first birthday party – an evening illuminated by flickering candles, a pretty pink cake and a roomful of remarkable women – and know how much you are loved.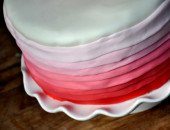 PRETTY IN PINK CAKE
Rose Levy Beranbaum's white velvet cake is my go-to cake for birthdays. You can pair it with almost any frosting or filling. Although Beranbaum prefers a non-chocolate frosting on this cake like this one, I think a silky chocolate buttercream frosting works just fine here if it's not overly chocolate-y.
If you have only two 9-inch pans like I do, follow this recipe to make the first two layers. After they have cooled and you have another pan available, halve the recipe to make a third layer. This will give you three 1 1/8-inch cake layers.
Ingredients:
For The Cake:4 1/2 large egg whites
1 cup milk
2 1/4 teaspoons vanilla
1 1/2 cups sugar
3 cups sifted cake flour
1 tablespoon + 1 teaspoon baking powder
1/4 teaspoon salt
12 tablespoons unsalted butter, room temperature
Directions:
STEP 1: MAKE THE CAKE
Preheat oven to 350°F. Grease two 9-inch cake pans with butter and line the bottoms with parchment paper. Grease tops of parchment paper and dust lightly with flour.
Combine ¼ cup milk, the egg whites and the vanilla in a bowl and set aside.
Add the dry ingredients to a large bowl or the bowl of an electric mixer and mix on low for 30 seconds. Add the butter and remaining ¾ cup milk, and mix on low speed until the dry ingredients are moistened. Increase to medium speed (or high if you're using a hand mixer) and beat for 1 ½ minutes. Scrape down the sides, and add the egg mixture in 3 batches, beating for 20 seconds after each addition.
Scrape the batter into the pans and smooth the tops with a spatula. The pans should be about ½ full. Bake 25-35 minutes or until a tester inserted into the center comes out clean. You will want the cake to spring back when pressed lightly.
Cool the cakes for 10 minutes, then loosen the sides with a knife or spatula. Remove from pans.
STEP 2: MAKE THE FROSTING
Make your favorite frosting. I am partial to an Italian meringue buttercream.
STEP 3: ASSEMBLE AND FROST THE CAKE

Using a cake leveler, evenly cut the tops off the cake so the layers are equal height.
Spread an even layer of frosting on top of the first cake layer and stick the cake in the freezer for 10 minutes or until the frosting is set. Add the second cake layer and repeat with frosting and freezer time. Add the third layer and spread a thin layer of frosting on top of the cake and around the sides of the cake – this is your crumb coat. Put cake in the freezer for 5 minutes or until frosting is set. Add a final thin layer of frosting to the top and sides of the cake, making sure it has a smooth finish. Place the cake in the freezer, covered, until you're ready to decorate.
STEP 4: DECORATE THE CAKE
For the final fondant decoration, please see Not Without Salt's instructions. I used 2 lbs of red buttercream fondant (with some leftover) and 4 lbs of white buttercream fondant (with some leftover). I used "antique white" to cover the cake and "wedding white" to make the strips.

If you're making a 9-inch cake, you will need another set of hands to help you wrap the fondant around the cake, that is, unless you come up with a better system or technique than I did. If so, please share!
2 Responses to "Pretty In Pink Cake"
You must be logged in to post a comment.