Poisson En Papillote
On days when I don't have time to appropriately dress myself let alone an hour to prepare dinner, I make poisson en papillote (fish in parchment paper). We eat this dish almost every week. Start to finish, it takes approximately 25 minutes to prepare, 15 minutes of which are cooking time, and the best part is it even creates its own sauce.

You simply arrange a few lemon slices, pats of butter, shallots and herbs on top of and underneath the fish, seal the parchment paper, shove it in the oven and do absolutely nothing while the butter melts and bubbles around the fish, intermingling with the herbs and shallots to create a glorious sauce.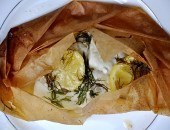 POISSON EN PAPILLOTE (FISH IN PARCHMENT PAPER)
I sometimes include a few slices of fresh garlic to flavor the sauce and then remove them just prior to eating. If you have a bottle of dry white wine handy, you could drizzle a tablespoon or two over the fish before sealing the parchment paper. A diced tomato would be a nice addition. The options are endless, which is what makes the dish so versatile and satisfying.
Ingredients:
Two 6-ounce fish fillets, skin left on or removed (*See Note)
6 tablespoons butter
6 thin lemon slices, from two lemons
1/4 cup chopped herbs (Our favorite is a combination of chives and basil or dill)
1 shallot, thinly sliced
Sea salt
*NOTE: For this dish, we often use cod, sole or flounder. I've made variations with salmon, as well. What we buy depends on what's fresh, on sale or what sounds good at the moment. We do try to avoid farm-raised fish.  For very thin fillets,  don't be afraid to layer one fillet on top of the other. Just make sure to salt each one and seal the parchment well.

Directions:
Preheat the oven to 475.
Cut two 13-by-18-inch sheets of parchment paper. (Each fish fillet gets its own parchment pouch — unless the fillets are very thin, in which case you can put them on top of each other. Each person gets his/her own pouch, so think in terms of individual servings as you're assembling them.) Fold each piece in half and cut into the shape of a half-heart. When you open the paper, it should look like a heart.
Position two tablespoons of butter just to the right of the fold and toward the middle of the paper. Scatter some shallots and herbs, then place a lemon slice on top of each pat of butter. Place one fish fillet on top of the lemon slices. Sprinkle the fish with salt. Place a lemon slice and tablespoon of butter on top of the fish, and scatter with more shallots and herbs.
(Confession: In the picture below you will notice the omission of shallots but the addition of an extra tablespoon of butter and slice of lemon. What can I say. I was out of shallots but well-stocked with butter. And we like our sauce zingy.)
Fold the parchment paper over the fish so the edges of the heart align, and beginning at one end, seal with small overlapping folds about an inch long, making sure to seal the other end securely. You want to make sure both ends are sealed well. Otherwise, the sauce will leak out of the parchment. At this point, you can refrigerate the packets for a few hours; just return to room temperature before proceeding.
Place the packets on a baking pan or in a casserole dish, and cook the fish on the middle shelf of the oven for 15 minutes. Transfer to serving plates, and use scissors or a knife to carefully open each papillote.
Leave a Comment
You must be logged in to post a comment.