Lime-Mint Granita
In the midst of this oppressively hot summer, my garden is a green, thriving wonderland. That's what I imagine John Mayer would croak sing if he were strolling through it.
(I promise to never again mention John Mayer on this blog.)
My tomatoes are growing plumper and turning deeper in color each day: cherokee chocolate, black cherry, box car willy, watermelon beefsteak and other heirloom varieties.

My poblano, jalapeno, red and yellow peppers are making progress but not yet ripe enough to be harvested.  
And then there's this charming garden addition, which Jason "planted" in May.
That outstretched hand has startled me more times than I'd care to admit.
He doesn't look apologetic, does he? Handsome, but not apologetic.
Another surprise, albeit a pleasant one: these carrots, found locked in an embrace after being pulled from the dirt.
My herbs are taking over their respective corners of the garden beds: oregano, chives, thyme, parsley, thai basil, sweet basil and mint.
I'm especially glad to have an abundance of mint growing again. (We gave our three raised garden beds a rest last year.) Next to fresh fruit, a minty, frozen granita is one of my favorite ways to end a summer meal.
I've been making this lime-mint version for years. It always hits the spot.
Granitas are a cinch to make. The base is a simple syrup (in this case, a mint-infused syrup) and freshly squeezed juice. The best part? The freezer does the work. No need turning on the oven for hours on end in the sweltering heat when you can satisfy your sweet tooth with a no-fuss, refreshing treat.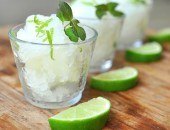 Yield: Serves six to eight
LIME-MINT GRANITA
To garnish, top the granitas with lime zest, fresh mint leaves and/or lime wedges.
Ingredients:
3 cups water
1 1/4 cups sugar
3/4 cup fresh mint leaves, loosely torn in pieces
3/4 cup freshly-squeezed lime juice from approximately 5 large limes
Directions:
Combine the water and sugar in a small saucepan. Over medium heat, cook until sugar is dissolved. Add the mint leaves. Simmer for 10 minutes. Set aside to cool. (It can be warm for the next step.)
Strain the syrup through a fine-mesh sieve into a bowl. Discard the mint leaves. Stir the lime juice into the strained mint syrup. Carefully pour the lime-mint mixture into a large casserole dish. (Mine is approximately 9x13 inches.)
Transfer the casserole dish to the freezer. With a fork, scrape the mixture every 30-45 minutes as it  freezes, breaking up the forming ice into small shavings. It's also fine to wait until the granita completely freezes to break it up — it just might take a little more work.
Leave a Comment
You must be logged in to post a comment.