Italian Meringue Buttercream
After discovering Italian meringue buttercream, the real stuff made with sugar, eggs and what-should-be-illegal amounts of butter, I rarely whip up a frosting that calls for powdered sugar anymore. I don't entirely eschew powdered sugar – I enjoy a fluffy, powdered-sugar-sweetened cream cheese frosting every now and then, but most of my cakes are adorned with smooth layers, thick fillings and flirty swirls of silky, melt-in-your-mouth buttercream.

Italian meringue buttercream is deceptively light-tasting with a smooth texture that allows it to glide easily onto cake. It sets quickly in the refrigerator or freezer when you're assembling cake layers and applying frosting coats, and piped decorations of buttercream hold their shapes at room temperature better and longer than the average frosting. These qualities make it a dream for decorating.
The recipe I'm sharing belongs to my friend, Amanda, who inspired my affection for lemon curd and helped me pull off my daughter's first birthday cake. Although I've made my own buttercream for years, I have always claimed Amanda's is superior. Lucky for me – and all of us – she left her secret recipe sitting on my kitchen table a few months ago.
I attempted to blackmail her, but because she's the generous sort, she didn't mind passing along the recipe. By this point, she is probably used to me stealing things.

It is, be forewarned, called buttercream for a reason. You may wish to steady yourself on a guardrail or sturdy chair before reading the required amount of butter. I would submit, so we all can momentarily remove ourselves of guilt, that buttercream is a special occasion creation, not a weekly luxury, although once you taste it, you may find yourself dreaming up all kinds of occasions worthy of such an indulgence.
My last piece of advice is to store your decorated cakes or cupcakes in a safe place, lest any small animals find and pillage your prized goodies.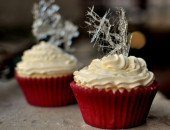 ITALIAN MERINGUE BUTTERCREAM
Ingredients:
1/2 cup water
2 1/4 cups sugar
1 teaspoon light corn syrup (to keep the sugar from crystallizing)
6 egg whites (pasteurized if you wish)
1 tablespoon vanilla extract
1 1/2 lbs (6 sticks) unsalted butter at room temperature
Directions:
Add the sugar and corn syrup to a small pot, then slowly poor water over top, making sure no sugar is above water level, stirring if necessary. Attach a candy thermometer to side of pot. Turn heat to medium-high. Bring sugar water to 240 degrees F.
While the sugar is heating, beat the eggs in the bowl of a mixer on medium speed until stiff peaks form. Slow the mixer down if they reach this point before the sugar reaches 240 F.
When the sugar is ready, remove from heat. Turn the mixer on high, and slowly — VERY SLOWLY (I didn't realize how slowly one must do this until I watched Amanda demonstrate) — pour the sugar into the bowl, close to the edge and away from the beater, to avoid it from splattering against the sides of the bowl, where it will immediately harden. (Confession: mine almost always splatters a bit so don't lose hope if yours does, just keep pouring with a slow and steady hand.) When all of the sugar has been poured in, continue beating the mixture on high until the bowl is cool to touch. This takes 10-15 minutes, give or take a few.
With the mixer on low-medium speed, add the butter, piece by piece until it is fully incorporated. The buttercream may break apart before starting to thicken up. Don't fret — just keep mixing. Add the vanilla. Beat on medium for an additional minute.
You can decorate your cake or cupcakes immediately with the buttercream or store it in the fridge or freezer for future use, in which case it will need to be brought to room temperature and possibly whipped again lightly before using.
Leave a Comment
You must be logged in to post a comment.