Herb-Roasted Pork Loin With Mustard Breadcrumbs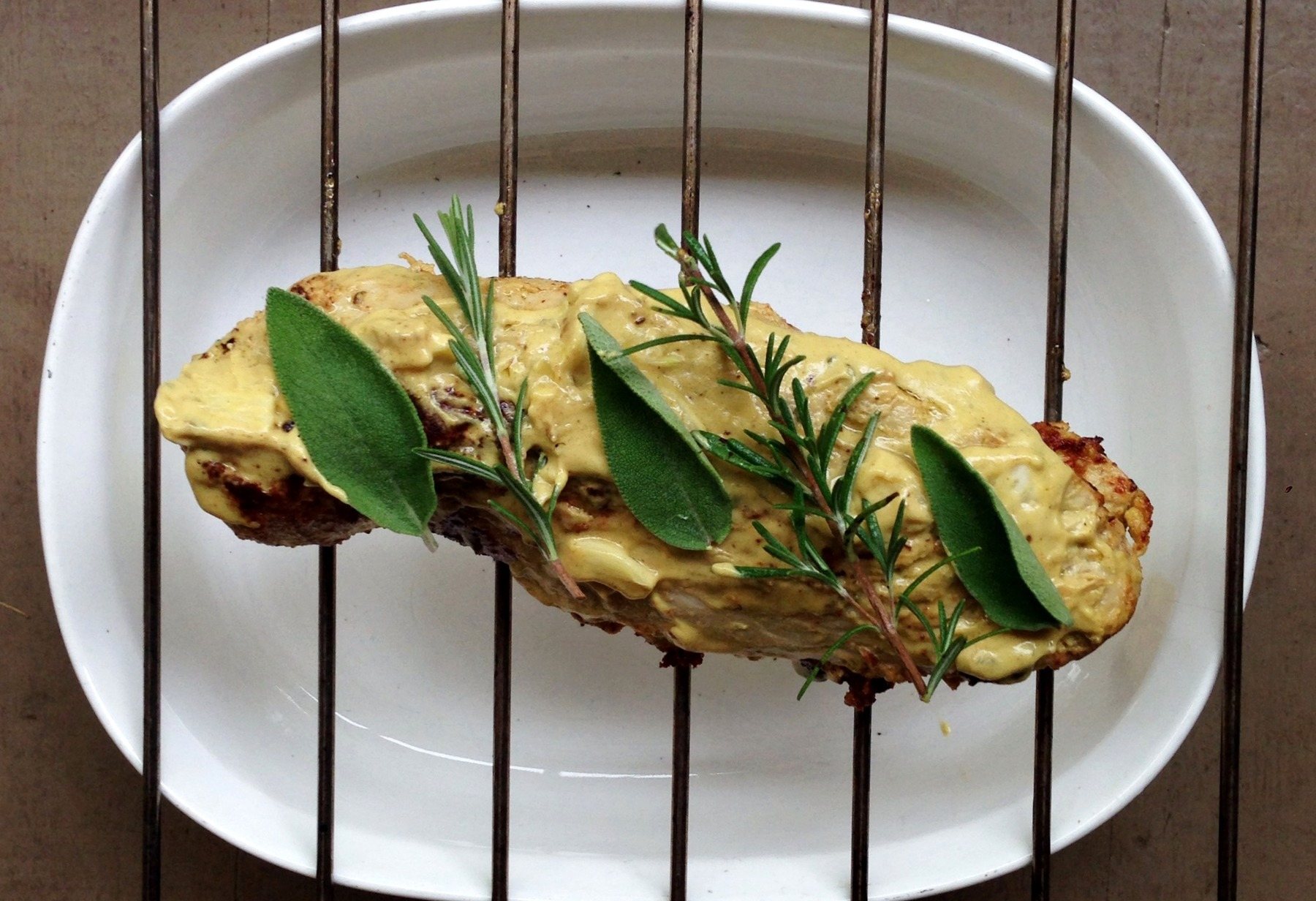 As the holidays near and you're contemplating a main course to serve your family and friends, I'd like to suggest – as an alternative to ham or turkey – one of my favorite entertaining dishes. It makes for an impressive presentation and is a crowd pleaser. I'm still amazed my children, who often dismiss meals with layered textures, love this meal.
The pork loin is smothered in a mustard-herb-garlic marinade overnight, then browned in a hot pan before slow roasting in the oven, rendering it juicy and flavorful. At the table, it's topped with buttery, mustard-herb bread crumbs and jus made from the brown bits in the pan.
Merry Christmas to you and yours.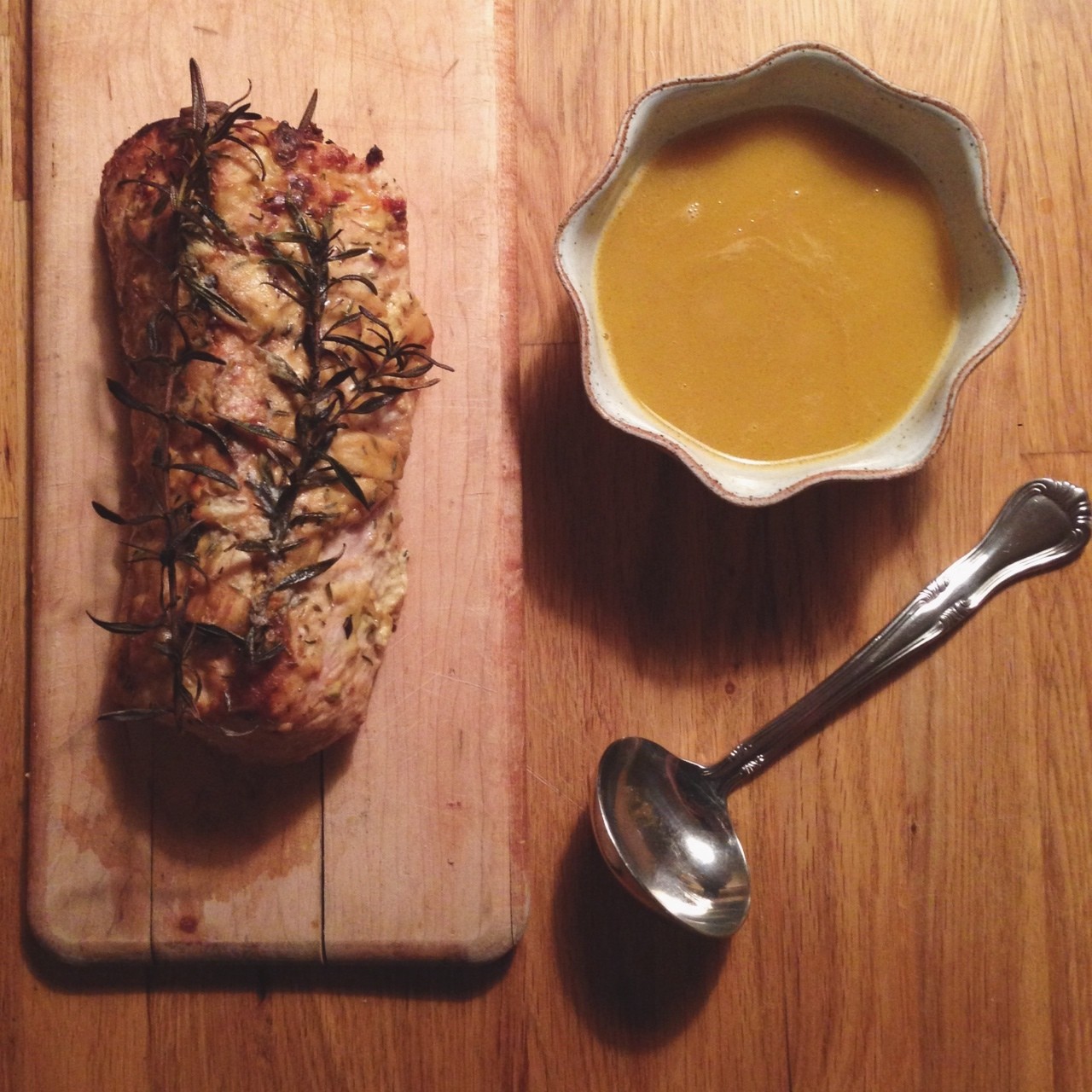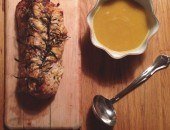 Herb-Roasted Pork Loin With Mustard Breadcrumbs
Fresh bread crumbs are a must in this recipe. Also, I successfully prepared this dish with gluten-free bread for friends with dietary restrictions, so don't hesitate to use your favorite gluten-free bread.
Ingredients:
Mustard Breadcrumbs
2 cups fresh bread crumbs*
5 tablespoons butter
1 teaspoons fresh thyme leaves
1 teaspoon chopped flat-leaf parsley
2 tablespoon Dijon mustard
* My method: Add six slices of stale bread to a food processor and pulse for 20-30 seconds or until you have bread crumbs of desired size. If you don't have stale bread, you can toast the bread in a 350-degree oven for 10 minutes before adding to the food processor.
Pork Loin
1/2 cup of Dijon mustard
1 tablespoon fresh thyme leaves plus 6 sprigs
2 tablespoons fresh flat-leaf parsley, chopped
¼ cup olive oil
10 cloves of garlic, chopped
3 lbs center cut pork loin*
3 sprigs rosemary, broken into 3-inch pieces
Optional: 4 fresh sage leaves
6 tablespoons butter, sliced
1 cup chicken stock
Kosher salt and freshly ground black pepper
* My grocery store mostly sells pork loin in 1.5 lbs packages, so I prepare two pork loins. I rather like this, as the marinade covers more surface area (thus more flavor).
 
Directions:
Mustard Breadcrumbs:
Preheat oven to 375 degrees F. Heat a small sauté pan over medium high heat for 1 minute. Add the butter. When it melts, whisk in the mustard, thyme and parsley. Remove from heat. Add the bread crumbs and stir until evenly coated. Transfer to a baking pan and cook for 10-12 minutes until lightly browned and crispy.  Set aside until ready to use.
Pork Loin:
In a bowl, whisk the mustard, thyme leaves, parsley and 2 tablespoons olive oil. Stir in the garlic.  Smother the mustard marinade on the pork loin. Cover with plastic wrap and refrigerate four hours or overnight.
Take the pork out of the fridge one hour before cooking to bring to room temperature. After 30 minutes, season all sides with black pepper. (Note: when you transfer the pork loin from its resting dish to the pan, you will have marinade left in the dish.  Reserve for later.)
Preheat oven to 325 degrees F. Set a roasting rack over a large baking dish. Set aside. (If you don't have a roasting rack, the pork loin will do fine in a roasting dish.)
Heat a large pan over high for 3 minutes. Add 2 tablespoons of olive oil, let the olive oil heat for a minute, then add the pork loin to the pan. Turn down the heat to medium-high and sear the pork loin for approximately 4 minutes on each side or until browned. The pork loin may stick slightly to the pan when you turn it (a metal spatula helps) – that's ok.
Transfer the pork loin to the roasting rack or the roasting dish. Reserve the pan with the brown bits for later. Slather the remaining marinade over the pork. Top evenly with 3 tablespoons of butter.  Position the rosemary and thyme sprigs (and sage leaves, if using) on top of the pork, and bake for 1 ¼ hours. Let the pork rest 10 minutes before serving.
While the pork is roasting, heat the pork-searing pan to medium high for two minutes. Deglaze with the chicken stock and let boil for 1 minute, scraping the brown bits from the bottom of the pan. Whisk in 3 tablespoons of butter. Taste for seasoning. Add a tablespoon or two of water if it's too salty. Strain the jus through a sieve and transfer to a small serving pitcher or gravy pitcher.
Slice the pork approximately ¼-inch thick per slice. Encourage guests serve themselves at the table, topping the pork with the breadcrumbs and jus.
2 Responses to "Herb-Roasted Pork Loin With Mustard Breadcrumbs"
Leave a Comment
You must be logged in to post a comment.