Blueberry Brown Sugar Gratin
Had I known about this three-ingredient, five-minute berry gratin in college, I would have heavily relied on it for a sweet tooth fix. Instead, I squandered those years snacking mostly on junk food concoctions. Marshmallow fluff mixed with M&Ms comes to mind. I also recall spending a particularly depressing Valentine's Day slumped over an enormous basket of chocolate sent bya secret admirer my dad.

I would have benefited, in more ways than one, from occasionally venturing into the kitchen and attempting a homemade dessert like this berry gratin, something I am confident my 20-year-old self could have whipped up without burning down the house.

Blueberries, raspberries or a combination of both work beautifully in this dish. I used blueberries because I have 20 pounds of huge Michigan blueberries in my freezer, and those things taste like candy.

The gratin takes all of five minutes to make, and when you experience that first bite of creamy blueberry goodness, you will wonder where this dessert has been all of your life.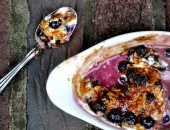 BLUEBERRY BROWN SUGAR GRATIN
Ingredients:
Blueberries (Or berries of your choice)
Sour Cream
Brown Sugar
Directions:
Forgive the lack of measurements, but this is a feel-as-you-go kind of recipe. Place the berries in a shallow, medium-sized serving dish or in individual ramekins, leaving enough room for the sour cream and brown sugar on top. With a spatula, spread a generous layer of sour cream on top of the blueberries. Sprinkle brown sugar evenly on top of the sour cream, making sure there are no clumps and that the cream is well covered with a nice, even layer of sugar.
Place the gratin(s) under the broiler just until the brown sugar has melted. Watch closely because this won't take long and you don't want the sugar to burn.
Enjoy immediately.
Leave a Comment
You must be logged in to post a comment.