Fig Newtons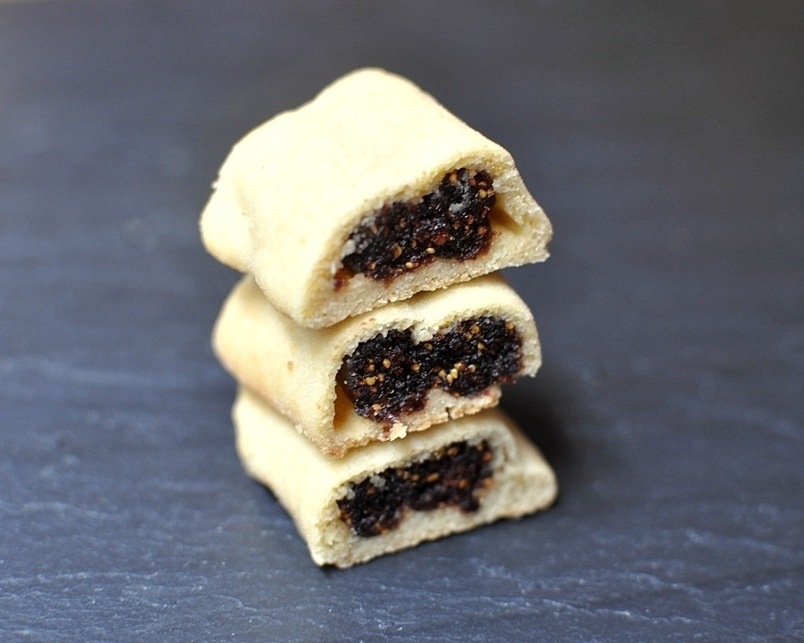 As part of our ongoing effort to expand Walker's palate, we ask him to suggest new foods he wants to see at the table. All ideas are welcome: snacks, main courses, restaurant fare. I also like to hand him a cookbook and encourage him to look through the pictures until he finds something appealing.
A few months ago, he requested homemade crackers. We made crackers. Then he requested homemade oreos. We made oreos. In early May, Walker spotted a mouth-watering picture of empanadas in Gran Cocina Latina (winner of the James Beard award for Cookbook of the Year), so we made empanadas.  For  months he's been describing a cookie bar he wanted me to either make or buy, but he couldn't remember the name of it. He described the bar as having fruit in the middle and being "very flavorful." From the description, it sounded like a Nutrigrain bar but he insisted it wasn't.
We eventually figured it out: fig newtons.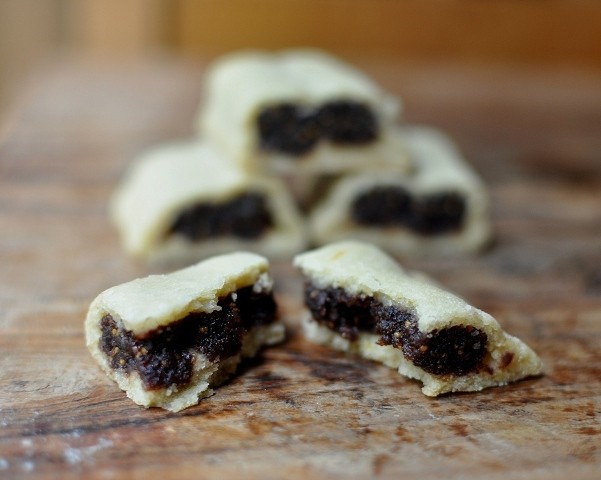 I started buying the kids fig newtons on occasion ("fig newmans" if you want to get specific), but not without a twinge of regret. Surely, I thought, I can make these cookies better and healthier at home. Several weeks ago, some internet research led me to pastry chef Stella Parks' recipe for fig newtons.  I've followed her blog, BraveTart, long enough to know that if anyone can recreate and elevate the humble fig newton, she can. Parks is the head pastry chef at Table Three Ten in Lexington, Kentucky. She even makes her own sprinkles. So, I wasn't surprised that her recipe produced a perfect homemade interpretation of a fig newton (and with surprisingly little sugar). I couldn't wait for Walker to try them.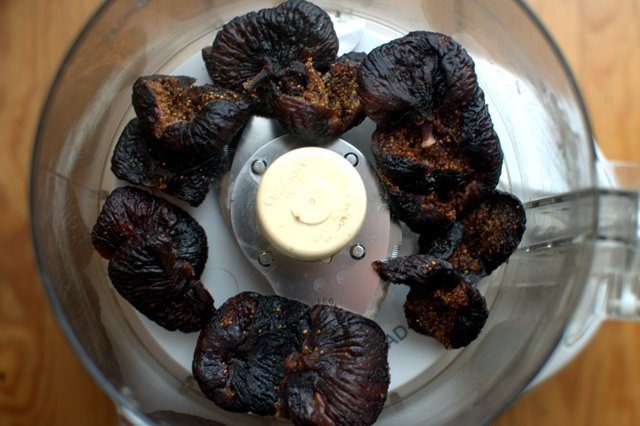 And here's the part of the post I was looking forward to writing: the part where Walker raves about my homemade fig newtons, fireworks explode overhead and a man in a suit shows up on my doorstep to present me with a plaque for "Mom of the Year."  But, and I'm sure you know where this is heading, not every story can have a happy ending, not even on a food blog. The truth is Walker wasn't crazy about them. If I had to guess, it's because I made them with more filling than store fig newtons and the softer texture threw him off. I'm not sure. He couldn't articulate it. Kids are a picky lot is all I know. I plan to make them again with less filling (more like the grocery store ones, sigh) to see if those might win him over. Who knew lovingly homemade creations would have to work so hard to surpass their factory-made, mass-produced counterparts?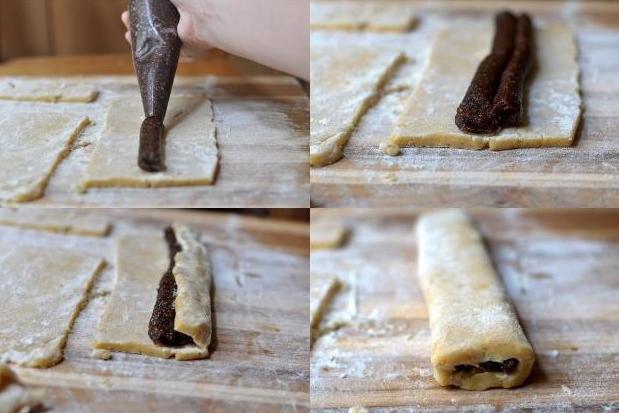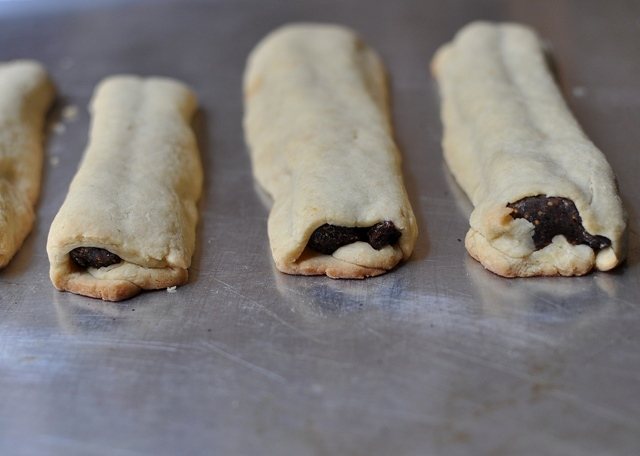 That said, I am not discouraged. Walker may not prefer the homemade newtons to the store-bought ones (yet), but he is aware that a homemade version with real ingredients, minimal ingredients exists. There's a lesson in there somewhere.
For those of you with an affinity for fig newtons, these cookies are marvelous. I was impressed with the filling – eons more flavorful than the big brand version.  The dough, with flecks of orange zest, is subtly sweet and soft like cake.  Personally, I see no good reason to eat a pre-packaged newton again.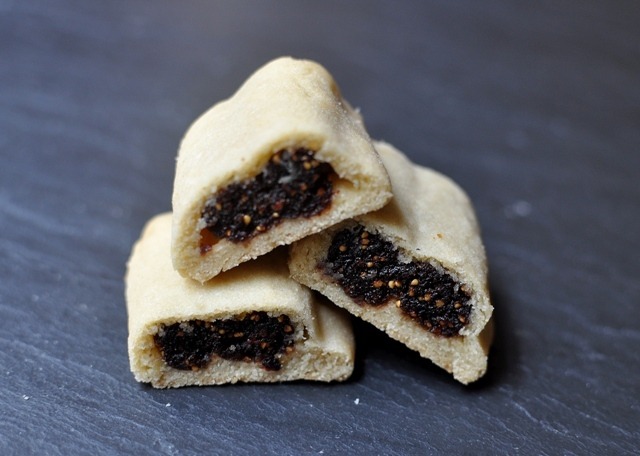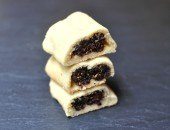 Yield: approximately 20 cookies
Fig Newtons
Ingredients:
For the Dough:
1/2 cup all-purpose flour, sifted
6 tablespoons unsalted butter, room temperature
3 1/2 tablespoons sugar
1 tablespoon + 1/2 teaspoon honey
1/8 teaspoon baking soda
1/8 teaspoon kosher salt
1 teaspoon vanilla extract
pinch of cinnamon
1/2 teaspoon orange zest
2 egg yolks
1 tablespoon orange juice
For the Filling:
6 ounces (approximately 1 1/4 cups, packed) dried black Mission figs
2 tablespoons unsweetened applesauce
1 tablespoon honey
1/8 teaspoon cinnamon
Directions:
Make the Dough:
In the bowl of a stand mixer fitted with a paddle attachment (or in a large bowl using a hand mixer), cream the butter and sugar on medium speed for one minute. Add the honey, baking soda, salt, vanilla, cinnamon and orange zest and continue mixing until the batter is light and fluffy, scraping down the bowl as needed. With the mixer running, add the yolks one at a time, mixing after each addition.
With the mixer on lowest speed, add the sifted flour followed by the orange juice. Mix until incorporated. The dough will be very soft. Transfer the dough to a large sheet of plastic wrap, scraping the sides of the bowl with a spatula, if need be, to remove all of the dough from the bowl. Fold the wrap over the dough, flatten it into a disc and refrigerate overnight.
Make the Filling:
In the bowl of a food processor, add the figs, applesauce, honey and cinnamon. Pulse until smooth, scraping down the sides as necessary until no large chunks remain. If making more than a few hours ahead of time, the filling can be stored in the refrigerator until ready to use, although I recommend bringing it to room temperature before making the cookies.
Assemble and Bake the Cookies:
Preheat the oven to 325 F. Prepare a parchment-lined baking pan or cookie sheet.
Transfer the filling to a pastry bag with a large tip. If you don't have a pastry bag, you can use a plastic bag, cutting off the corner to simulate the tip of a pastry bag. You can also spread the filling with a knife, although it won't be as precise. Set filling aside until ready to use.
Parks warns that the dough will be very soft after chilling. I recommend having a bowl of flour handy for the rolling process because you will need a lot of flour for dusting.
Heavily dust a cutting board or surface. With a rolling pin, roll the dough to ¼-inch thickness. Important: During this process, flip the dough over frequently (or lift and move to another spot on the rolling surface), dusting the surface and top of the dough heavily each time. If the dough sticks, use a spatula to loosen it from the surface. With a pizza cutter, cut the dough into four strips that are 3 ¼ inches wide by 6 inches long.
Pipe the filling down the center of each strip (or use a knife to spread it evenly). The filling strip should be approximately one inch wide. I had to use two strips of filling to accomplish this because my pastry bag had a narrow tip.
Fold one side of the dough over the filling, then roll the log over until the dough is wrapped around. Roll the log so the seam is on the top, and gently press the seam together, patching with dough in areas that look too thin. Brush off any excess flour and place the logs, seam-side down, on the baking sheet.
Bake for 12-15 minutes until cookies have puffed and browned lightly. If they feel moist, bake for 2-3 minutes more. Remove the bars from the oven and cut them into one-inch cookies. While warm, transfer them to an air-tight container or plastic bag; this step "steams" the cookies so they remain soft. Cookies will keep stored at room temperature for approximately two weeks.