Corn and Red Pepper Soup
I'm not sure which is more tragic: purchasing a summer vegetable in the dead of winter or letting large quantities of it rot in the fridge… in the dead of winter.

We strive to eat locally and in-season – that's my politically-food-correct disclaimer – but in early January my husband, who never cooks, declared he was going to make maque choux for a company potluck. I tracked down a dozen ears of corn along with the other required ingredients in anticipation of watching him fumble his way around the kitchen, roasting and wrangling corn on the cob. Big laughs all around.
Right.

He never made the maque choux, and the corn loitered in the crisper drawer for days, which turned into weeks, me cringing every time I opened the fridge and laid eyes on the 12 blasted ears of corn.
After a month, I decided the corn would appear on the dinner table, somewhere, somehow. Soup seemed like the best option, as it tends to be forgiving of lazy cooks and imperfect produce. But as I would soon discover, a less-than-fresh vegetable is one thing; one that has grown hair and teeth is another. When I finally pulled the corn out of the fridge, I recoiled at the sight of an ominous, black mold – clearly, the mark of death – growing on the bottoms of the ears.

I promptly dumped them.

Whether I should be proud or embarrassed of what happened next, I'm still debating, but a few moments later I circled back to the garbage can and retrieved the corn. I cut the moldy bottoms off the cobs and proceeded with my soup plans, hoping a recipe from an inspiring, new cookbook might save the day.
The cookbook, Bon Appétit, Y'all!, was written by classically French-trained, southern celebrity chef Virginia Willis. I heard Willis lecture on recipe development at FoodBlogSouth the week before. She was sharp and passionate, and I knew her much-beloved cookbook belonged in my collection. FoodBlogSouth was held in Birmingham and attended by a multitude of talented food bloggers, all of whom I'm certain are posting, at this very moment, glorious reviews and photographs of seasonably-appropriate root vegetables, hearty breads and meaty winter stews.

Meanwhile, I am coming up a tad short on my post-conference goals, blogging about dumpster diving (*hangs head*) and cooking with half-rotten vegetables. I would apologize to my millions five readers, except… the corn soup turned out fine. Superb, even. It far surpassed my expectations, and all four quarts vanished within 48 hours.  (At the time of publishing, everyone was still alive and accounted for.)

Yes, I added red peppers, which the recipe didn't call for, and yes the red peppers were a month old and had their own hard-knock story. Yes, I added bacon, which the recipe didn't call for, but not until the very end. The pork addition was no Hail Mary pass, I assure you. We oohed and aahed over the soup before I even added the bacon.
I think the genius of the recipe is its foundation: a corncob-infused stock. Bare cobs, scraped of their kernels, are submerged in the chicken stock and left to steep, imparting a sweet and earthy flavor. Sautéed corn, red peppers, garlic and onions are added to the stock, and the soup is gently puréed, giving it a rustic texture. A cup of cream swirled in just before serving is the grand finale.

I'm relieved with how this corn folly panned out. I succeeded in appeasing a hungry crowd using vegetables long abandoned in the dark recesses of the fridge.
This soup is testament to the power of a good recipe, a little kitchen ingenuity and some luck. I'm not encouraging anyone to buy corn on the cob in February, but you can join me in counting down the days until we can make the soup with its rightful star: juicy, sweet summer corn.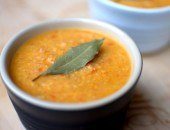 CORN AND RED PEPPER SOUP
I left out two ingredients, potatoes and cornmeal, only because I didn't have them on hand. I'm curious what the cornmeal would contribute to the flavor and texture of the soup, and I plan to incorporate it next time. I did not include either ingredient in this version of the recipe. I plan to try Willis' tomato garnish this summer when I can use fresh tomatoes from our garden. In lieu of tomatoes, you could garnish the soup with a few sprigs of parsley or a dollop of sour cream.
Lastly, I doubled the recipe because I cannot NOT double, triple or quadruple soup recipes. Not possible. We like our soup.
Ingredients:
12 ears of corn, husks removed
8 cups stock, chicken or vegetable
1 ½ tablespoons olive oil
2 onions, diced
3 garlic cloves, finely diced
4 red peppers, diced
2 dried bay leaves
1 cup half-and-half or cream
Salt and pepper
Optional: 6 strips thick bacon, cooked and then torn or cut into ½-inch pieces
Directions:
Cut the corn kernels off the cob. Willis has a great tip for this: lay the corn on its side and with a chef's knife, cut the kernels off the four sides of the cob — it will look square-ish. Then stand the ear on one end, and cut the corners, scraping the remaining kernels and milk into a bowl. Set the kernels aside. Cut the cobs in half.
In a 5-quart pot, add the corn cobs and the stock and bring to a boil. Reduce heat and simmer for 10 minutes. Remove the corn cobs, strain the stock into a bowl and set aside.
In the same pot, heat the oil on medium heat and add the onions. Cook until soft and translucent, about 5 minutes. Add the garlic and cook for another minute. Add the red peppers and cook for an additional 5 minutes or until they start to soften. Stir in the corn kernels, stock and bay leaves. (If using bacon, add two tablespoons of diced bacon at this point, reserving the rest for later.) Bring to a boil, then reduce heat and simmer for 20 minutes.
Using an immersion blender, purée the soup to desired consistency. You can also transfer the soup in small batches to a blender to purée. Stir in the half-and-half or cream and remaining bacon (if using), and reheat the soup. Add salt and pepper to taste.